We've got several things to show in this media release. First of all we've been working hard to redo a lot of the graphics, and our new designer David Barmann pumped out some new Grenadier designs which are currently being modelled.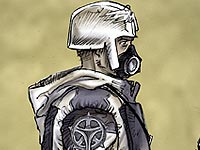 Rahmos cities are initially guarded by the Rahmos Conscripts which act as the regular armed police-force. If things get to tough the Grenadiers are brought in. These are heavy armed and well-trained frontline soldiers. After a long period of sweat and tears Arjun Gupte finally finished the Rahmos HQ!
In order for Rahmos to suppress up rises and resistance activity they need to be able to get armed forced and officers to the scene quickly. The special railways, which can be found all over the cities, are the key. Military trains containing a HQ section are driven in so the situation can be dealt with quickly. These need to be destroyed by the Resistance in order to inflict chaos amongst the Rahmos armed forces.
And last but not least a new player model! This time it's Ronius Diagran. The king of the Rahmos underground gets exposed and is forced into exile. Ronius's expertise was smuggling arms and liquor to the various resistance cells. After he was discovered by Rahmos Intel he had to go into hiding and active duty for the Resistance, and so he did. Ronius loves his heavy weapons so will often be seen with a heavy machinegun….
Also, we've just entered pre-alpha phase, with lots of core-game tests and content being integrated. We'll be releasing new ingame screens soon as more content is integrated.
Feel free to visit our forums at Isotx.com and tell us what you think; any feedback is more than welcome! That's it for now! Stay tuned as more updates are on the way! For more images and information visit : Isotx.com