Dear fans,
About two weeks ago we posted an article about the remastering process of the FXmod, which ended on the positive note that, although there still was much to be done before we can present you a stable post-2.0 release, the end of a six months' period marked by struggles and challenges was coming within hindsight at last. A few days ago this culminated into the release of an initial 2.0 port for our Steam users, FX v1.20.1 (BETA) which was fittingly named "Aftermath". In this newsletter we'll talk a bit about that release and preview some of the things it contains.
FX v1.20.1: Aftermath (Beta)
Aftermath is the first post-2.0 release for the FXmod. It was posted to our BETA page a few days ago along with the message that this version is still only in a "Basic Support" mode: bugs and glitches are aplenty, and some non-critical functions will not work. Some of our Steam users have been reporting such errors, and thanks to them we have been able to identify and pinpoint some of the issues in this beta build already.
So, why was this version not posted to ModDB? The first and most obvious reason is that this version is a beta and, as you may recall, we had decided to only upload stable releases here previously. The second reason is that this version of the FXmod was designed based on the "public patch" for HWRM (v2.205).
The Public Patch (HWRM v2.205)
After the 2.0 patch Gearbox had begun to work on future patches for HWRM. Somewhere during this time the Homeworld playerbase/hype nearly died out completely, and thus Gearbox re-allocated the HWRM assets to other projects. They also decided to release what they had so far on the new patch, which is about ~300 MB in data that came to be known as the "public patch build" or HWRM v2.205. To this day Steam users can follow the instructions in the link above to get access to this patch.
So what is the problem? The problem is that this patch modifies pretty much all of the HWRM main data files directly. It is not a separate .big file or mod that can be launched via command line. So, in order to bring the 2.205 patch to our ModDB fans so that they can play the new FXmod release one would have to compress and upload the entire (updated) game somewhere, which is just not possible for various reasons.
After some testing I found that the new beta of the FXmod -can- be launched with regular HWRM v2.0. However, since it was specifically designed for use with the public patch build there probably would be a lot of crashes or other issues if one would try to run it with v2.0. I forwarded the request for a 2.0/non-public patch version of the updated FXmod to the team some time ago, they are aware of it, so now we can only wait.
Bentusi, Bentuyou, Bentus..
Besides being a (primarily) 2.0 port, FX v1.20.1 also brings with it a major overhaul for the Bentusi. In this newsletter we will preview one of their new features.
If every race in the FXmod has one distinct advantage or key trait (Kadeshi as the swarm race, Taiidan as the production race, etc), the Bentusi can be said to be the economy race. Their unique feature is that they are the only race that is not tied to the asteroid deposits on the map for their resource income; instead, they can build and dispatch Cargo Barges on remote deep-space trading missions.
Once dispatched, a Cargo Barge will hyperspace out of the map, conduct trading missions in other parts of the galaxy, and eventually return to you with its hauls. When it hyperspaces back into the map it will lock onto and exit near the location of your Trading Relay Station, the Bentusi equivalent of the resource controller, where it will drop off its hauls and depart on the next mission shortly after.
The hauls are small, and income will be slow at first. To speed things up you can invest into constructing additional Cargo Barges, as well as research upgrades for their cargo capacity at various points throughout the game. This way the Unbound will always at least stay on par with the other races when it comes to RU income rate (and thus possess sufficient funds to deflect their hostilities), but the experienced traders among Bentusi players will be able stay ahead of the other races. Money is power, and the Bentusi's expertise in deep-space trading makes them a force to be reckoned with for enemies or a, quite literally, valuable asset for allies.
(right-click > view images for their full resolution)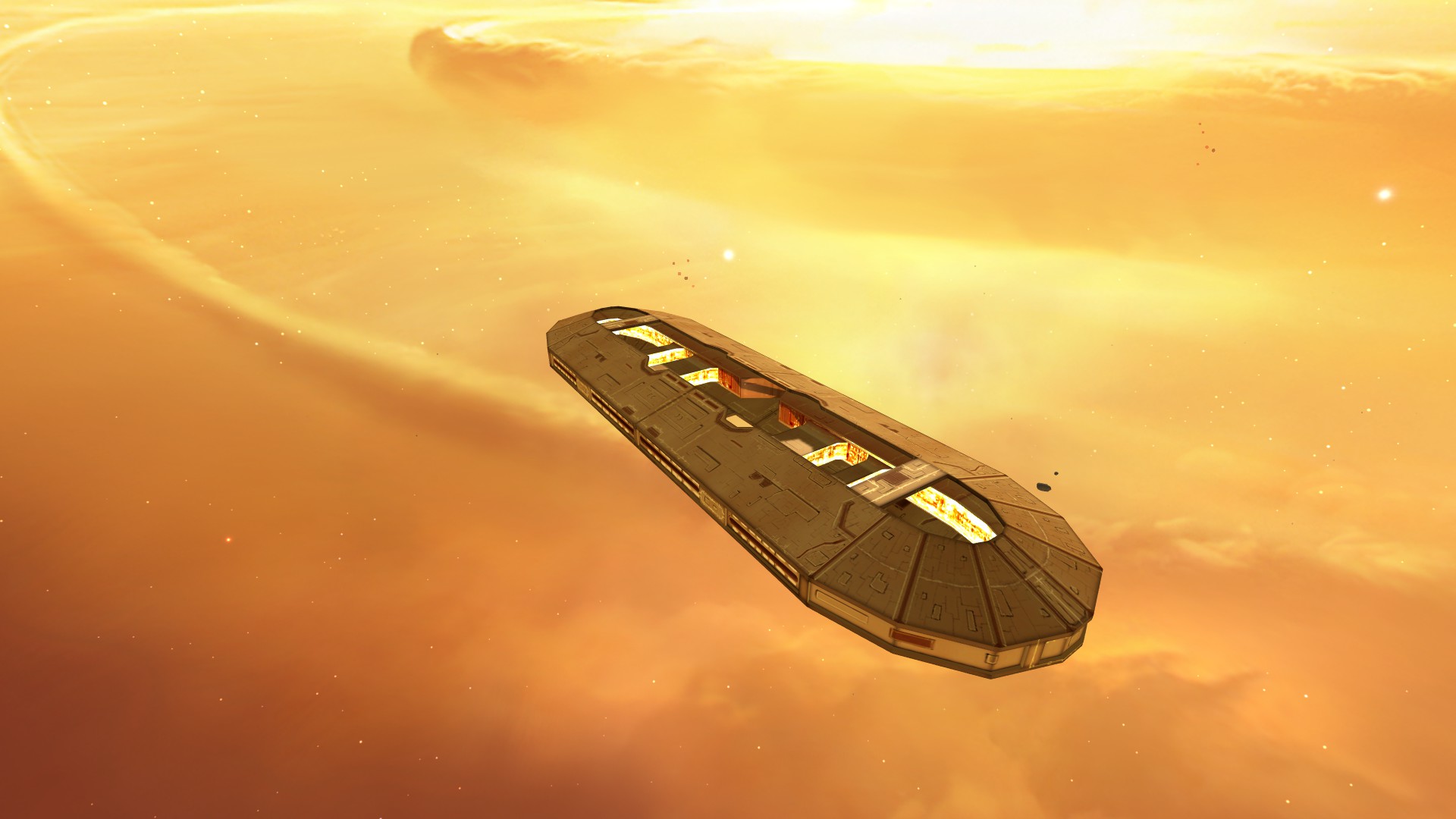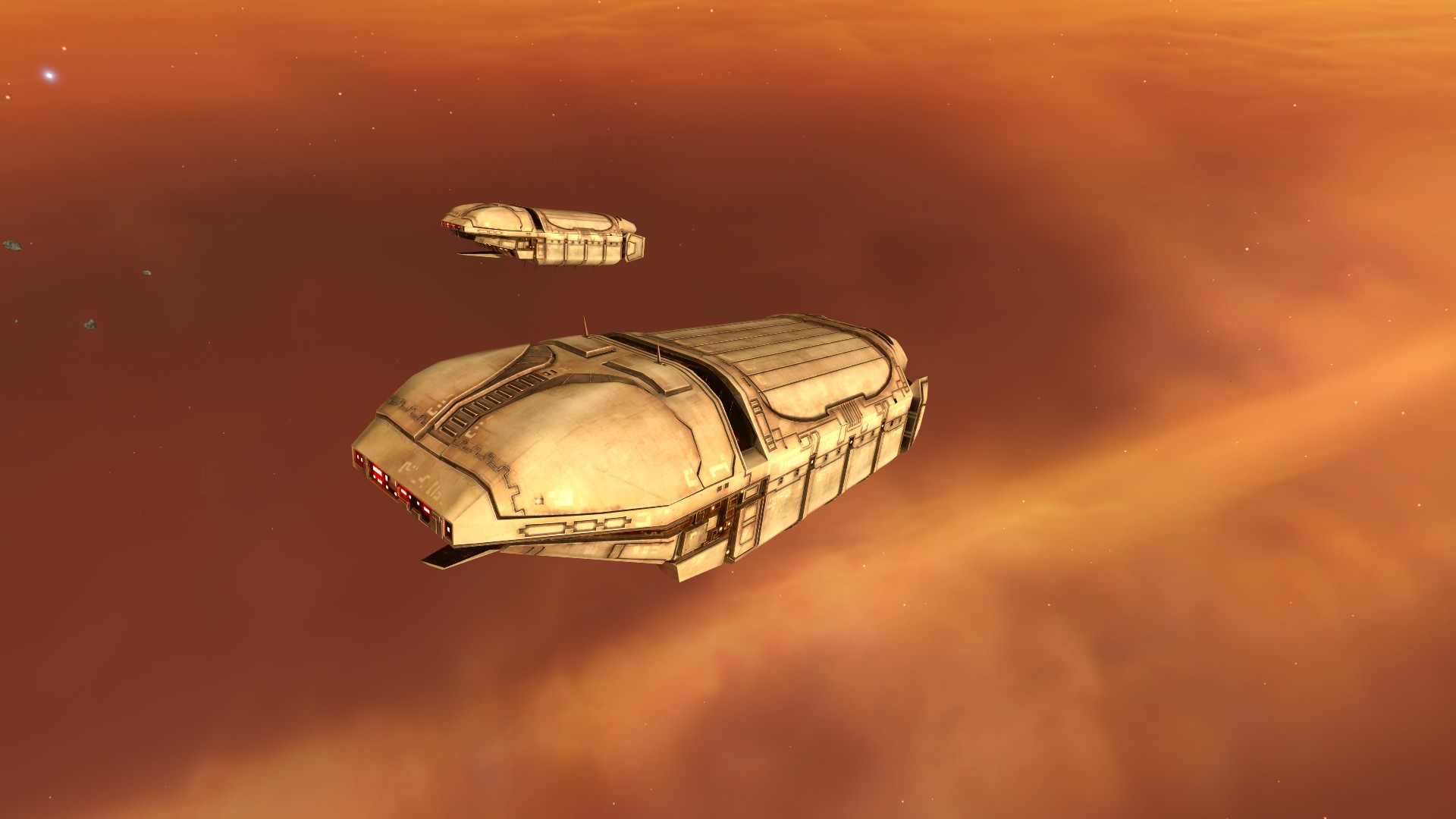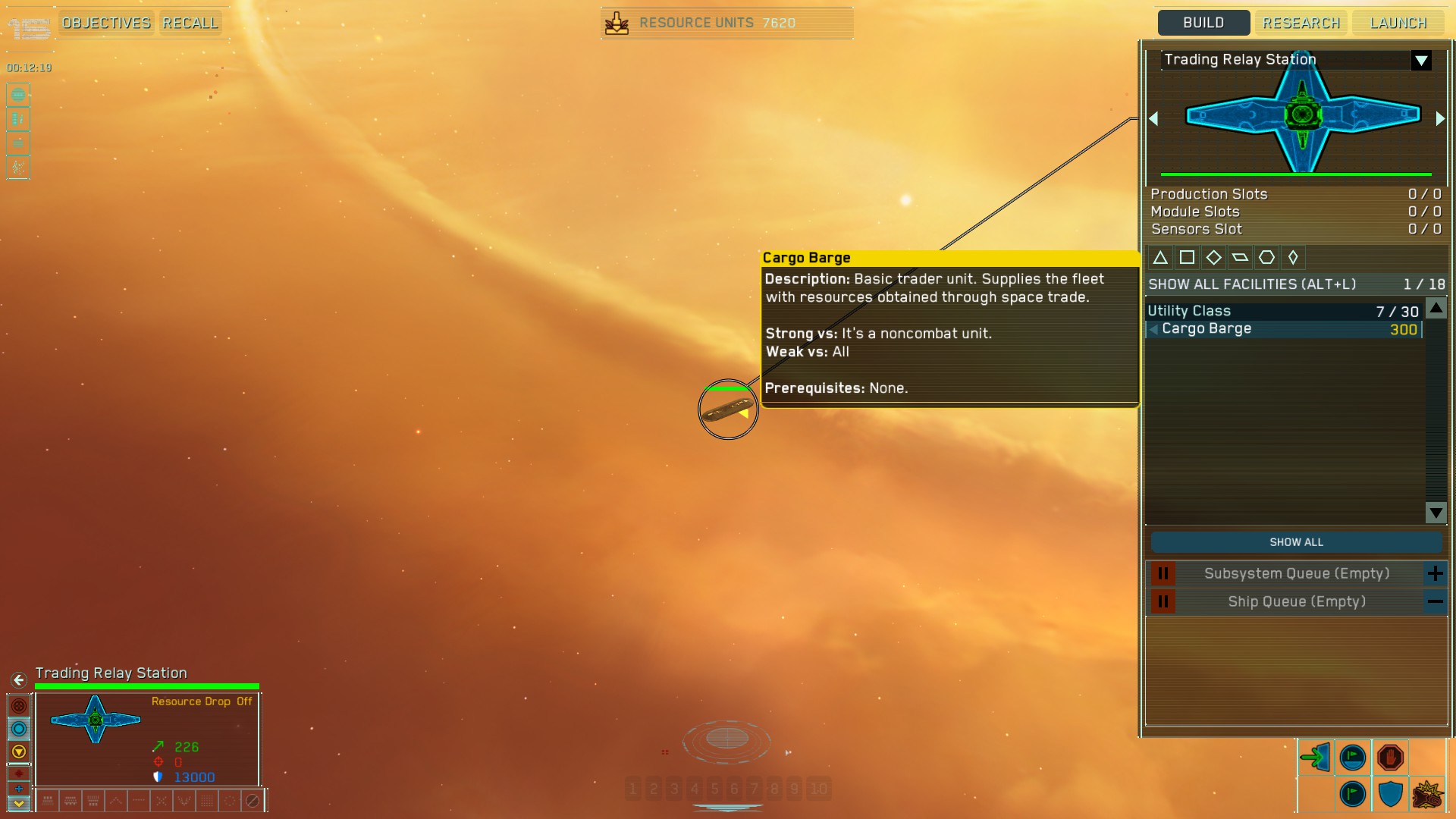 The Trading Relay Station itself cannot move, but it can freely hyperspace to and between any desired sections of the map to keep it hidden from enemies. Thus, rather than trying to topple the Bentusi's trading operations, enemies would do well to instead focus their efforts on bringing down Bentus, the core of the Bentusi fleet, as soon as possible. The "last of the Bentusi" is so large that it cannot be hidden from sensors, and can thus be seen by anyone on the map.
In the next newsletter we'll take a look at the Bentusi's new production system and some of their new units.
FXmod 3D Model Viewing
For those of you who like eye candy, Dreadnaught9ccn opened up a Sketchfab account the other day where you can live preview and explore several of the FXmod's units in full, unrestricted 3D. So far his page has two entries, one for the Progenitor Carrier (The Hand that Shapes) and one the re-textured Heavy Gun Cruiser (Turanic Raiders) that was posted to our ModDB page recently and will be included in a later update. Hope you enjoy!
Thanks for reading, and until the next time.
--WH