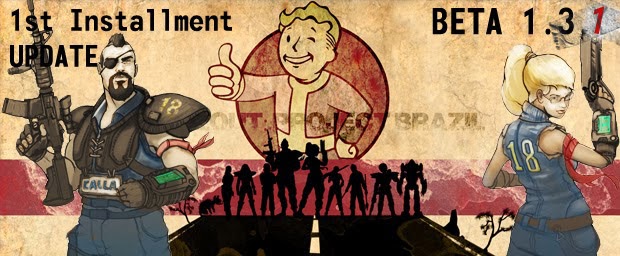 With the 1.3.1 Patch up and running, we're at the most stable and bug free we've ever been. With only a handful of complications to work out if the player goes out of their way to ignore important plot related characters (ie, randomly kill them or rush past them,) now would be the time to play the First Instalment.
Marco's Textures and lighting updates brought a great deal of character to the wasteland that we were in desperate need of. We still have to find a way to fix our region based weather, but we're confident it will work as an optional plugin. In the meantime, the terrain looks fantastic, and people report that while still very difficult, the NPCs are now adequately balanced for experienced players.
With that, we're firmly working on the 2nd Instalment. Rick has been working on getting the Vault 18 Reactor Meltdown scripts implemented, and Freddie's making sure we have preferred navmeshing for our companion NPCs to follow the player to safety. The Enclave and Raiders will be too busy fighting each other to notice a handful of Vault Dwellers fleeing the impending detonation, and will be neutral to you unless attacked. Right now they're hostile, because why not?
We've begun our mass dialogue and quest overhaul, ensuring all of our design documents are fully implemented in GECK and ready to script. As part of this, we've also taken a hard look at our plot, our characters, and our overall direction, and decided on some important changes. The first of which is to cut out the Third Instalment, and instead focus on making the Second Instalment the best it can be.
This is actually great news for fans of F: PB. While we are cutting out the LA Worldspace, we're doing it because we don't need it. The story can be totally self-contained in the San Bernardino Cajon Pass and surrounding areas. As much as I love ruined urban environments, it's superfluous to the core of the story we're trying to tell out on the frontier of civilization.
If this were a 31M$ production, I'd totally have everything from as far as Palm Springs to Santa Monica Pier explorable and scripted, but our story focuses on one event: The origin of the player, the fall of the last squadron of West Coast Enclave, and the lead up to events in New Vegas & Honest Hearts's lore years later, stemming from these quests.
Countless people have pointed out that the NCR has been in control of LA, The Angel's Boneyard, for 71 years as of 2260. It "couldn't be in ruins, because they're too advanced," they say. The reason downtown Santa Monica is burning in our intro video, is because it gets nuked as part of the lead up to the war with the Survivalist Raiders in San Bernardino. The rest of LA is fine. They recover, but with massive economic ramifications, leading to the Mojave invasion in our credits roll.
In a revanchist war with the LA Mob Bosses, the Survivalists were attempting to ensure the longevity of their holdout by crippling the capital of the Core Region. The Mob would attempt to seize power in LA from Congress, and the Raiders would be free to remain isolated in anarchy as the chaos overtakes the NCR - a Chaos incited by President Eden in a last "screw you" from the Enclave before switching all their attention to the East (Fallout 3.) Colonel Bragg was supposed to finish operations there and leave, but got "distracted," namely by you and Vault 18's Wasteland Scouts.
We assume the NCR has stuck to the coast, and most of their power is along that zone of influence. After you get near San Bernardino, it's basically post-nuclear sand dunes from there all the way out to Arizona, kind of like in real life, just worse. There's nothing out there, so there's no reason to expand that way. Union City is the last territorial HQ before the wasteland turns into the Dune Sea, which incidentally makes a great insulator for Caesar's Legion to take over everything from Flagstaff to Tucson with nobody in the NCR being the wiser.
The Fallout New Vegas Lore states that getting to the Hoover Dam was a HUGE milestone in NCR exploration, a landmark event in their history, even though it's a 4 hour drive up I-15 from LA. That's why we set F: PB in the Cajon Pass along I-15, between Mt. Baldy and the Big Bear National Forest. It was, in 2253- 2260, a significant geographic and political roadblock. Athens-Tec is where the Vipers, Jackals, and misc. Raiders fled, along with the failed Shi Resistance and Tribes that refused to be "pacified." That is why they are called "Survivalist Raiders."
The lore educated fans that read our designs hated the Third Installment. It's not that I'm caving to the extreme sticklers, but they made a very valid point. No one complained about the lack of more sci-fi elements in the story, but many maligned those that were too far outside of tradition already, like Aliens in Mothership Zeta. I didn't like that either, so I'm listening to sound reason from hardcore Fallout fans, something everyone can agree is a good thing.
Now, we can ensure that the player has two entirely different Main Quest Paths to follow, and a third if they find it. Plus, we have Enclave-player side quests for each of the 5 Main Quests (5 for each of 2 branches,) and several for those that joined Vault Security and the Wasteland Scouts. We can sum up the Lore Friendly endings to all Three Main Quests in one worldspace, and just focus on making sure the player has more ways to accomplish objectives based on their stats and decisions, rather than drag out the story to accommodate extra fluff and combat.
It's a shorter story, yes, but one more dense with replay value, and choices matter muuuuch more. The player can join the Survivalists' charismatic leader, Boss Elsdragon, and carry out his orders, or with an epic Speech to the Raider tribes gathered by talking to their leaders, usurp him and take over for themselves. They can take that leadership to a good karma end, siding with the NCR to defeat the Enclave and Master's Army, or go Bad Karma by exterminating tribes, nuking LA, assassinating Generals at the behest of a certain politician and starting a war they know they can't win, just to watch the world burn. The NCR side can go much similar.
Each of these are way cooler than just a linear plot ending in a big fight over the burning ruins of downtown. Not as pretty, maybe, but still more interesting. It will take the same amount of work for Me, Rick, Freddie, Marco and anyone else willing to join us as the other plans we already had for the 2nd Installment.
That means more complex and engaging content, with less work from us overall. I call that a win.
You can read about our progress on the Design Documents Found Here. In the mean time, you can keep track of us on ModDB, Fallout Nexus, or Facebook. We've got a thriving online community centered around each one.
Cheers