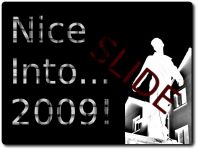 It's nearly over the year 2008. Wasn't it a good one, kinda? Well for Desolated I meant but I hope the rest was also ok for you. And I don't know why, but I feel that 2009 will be entirely different, better... and however, Desolated will be released.
At first I'd like to wish you an awesome slide into the next year, don't do too much drinking... what the hell am I talking about? Do whatever you wanna do, just enjoy! Personally I'm gonna drink a lot, celebrating till the sun is rising. I'm also a human being, kind of, and I'm also a bit supersticious belonging to new years eve. The way 2009 starts will be how it's gonna be. So wish you the best and enjoy it!
Now about business: got some news on the Mod, first of all we now changed to Doom 3 using Version 1.3.1. The reason is way too simple to be honest; 'cause it's easier to "upgrade" than to "downgrade" Doom 3 for Desolated.
As already mentioned a few decades ago Desolated will own a diary which is now done. Currently MacX is working on the questlog which will be finished 2009 (I love this number), so in about a few days. Maybe then I can also do a short preview of the rpg-system.
From now on we own a new feature called "water-physics", thanks to Lloyd Markle for letting us use it, I really appreciate that. So that's basicly all except... there will be a huge suprise next year, I promise (dunno if it's that much but enough, though)!
What's left to say? The whole team of Desolated: The Crying Fate wishes you an awesome, unforgetable night called new years eve!!!
Dave