When testing out some things, with terrain, I realized that the edges of the map were not handled gracefully – it crashed in fact. So in the process of fixing the crash, the terrain now extends beyond the map edges – pretty much forever (or close enough). Granted its not too interesting, since there won't be any locations, roads, rivers and so forth – at least not now. But who knows, maybe I'll add some surprises out there later.

Anyway here is a shot showing me running around outside the map.
Where I am on the map. Notice I've gone off the top side by quite a distance.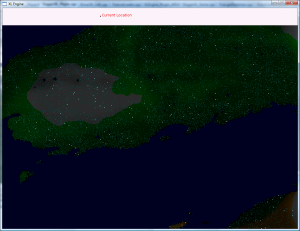 And what it looks like in game. While the large scale height map data is basically just "stretched", the terrain generation still makes it look fairly interesting.