The dungeon geometry refactor is almost complete. During this process several issues that are present in the current DaggerXL release are also being fixed – which should make DaggerXL much more polished and solid after upcoming release. Below I'll list a few of the items that are being fixed:
* Textures - DaggerXL still had some textures assigned incorrectly. This is being fixed for the next release and should be finished soon.
Some areas that were incorrectly textured in DaggerXL which are now working correctly:
* Texture coordinates - There were some cases in DaggerXL where textures were not mapped correctly to surfaces. This oftentimes led to distortions that did not exist in the original.
In addition there was a sub-texel error in the mapping, basically the way coordinates are mapped to polygons led to an off by 1/2 texel offset problem. Look at the screenshots below to get an idea of what the effect is:
Before (click to see a larger view) – Notice the bright spots where the bottom of the door frame meets the wall of the door frame.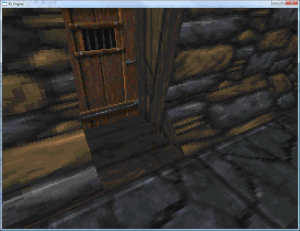 After (click to see a larger view)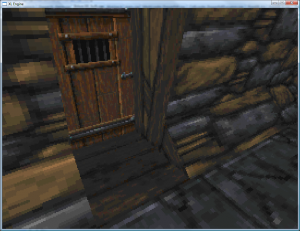 * Flat scale and offset - There were errors in the scale and positioning of flats that is being fixed for the next release. This will fix things like flats being too big or small and flats that hovered over the ground instead of sitting on it.
* Object rotations - There were errors in DaggerXL with objects that were rotated on all 3 axes at the same time. This was caused by a different order of rotations then Daggerfall used.
There are a variety of other non-graphical issues that will be fixed as well including: bodies falling through the ground or disappearing, UI issues such as not being able to click on certain buttons and the in-game mouse cursor being offset from the real cursor, DaggerXL not always honoring focus correctly and more.