The Conflict Earth:2142 team has released their first news update since announcing their mod on March 4th. Included in this update are numerous renders and concepts for the weapons, buildings, and players.
First off, we would like to welcome the following developers to the Conflict Earth team:
[CE-Dev] Guywithawrench - Modeler
[CE-Dev] RKO - Lead Graphics, Texture Artist, Lead Filmer
[CE-Dev] ice_killer - Lead Mapper
[CE-Dev] BlindShooter - Lead Concept Artist
[CE-Dev] Koshime - Concept Artist
[CE-Dev] Simon - Concept Artist
[CE-Dev] AlphaWhiskey - Filmer, Skinner, Mapper
[CE-Dev] Argus - Modeler
[CE-Dev] Sidonuke - Coder
Since we first announced our mod on March 4th, we have recieved many new renders and
concepts. We can only show you a few of them, so here they are:
Concept created by [CE-Dev] BlindShooter: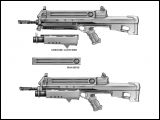 124 Assault rifle
Configuration : Top loading, bullpup, electonic operation
Magazine capacity : 45 rounds
Trigger group : Semi, 3 rounds burst, Full
Rate of Fire : 900 RPM
The M124 is magazine fed, electronically operated, High ROF assault rifle designed for close
combat.
The rifle's feeding and striking mechanism is entirely electrically operated by the use of
linear motors.
This reduce malfunction and stoppage dramatically to 0.01%
Top loading magazine houses 45 rounds of 6.8 mm. armor piercing bullets, double
stagered, and facing downward. At the very end of the magazine
the bullet rotate 90 degrees and feed into the chamber, the whole process is powered by a
built in battery in the magazine itself.
Power is feed to the rifle by a small battery located in every magazine, alternatively the
rifle has it's own backup battery located within the frame which is lasted for approximately
2000 rounds.
The rifle's frame is made from composite material, with lightweight alloy reinforcement
and internal mechanism. It features. a small rail interface near the rear sight for mounting
various optics though smaller ones are preferred, the fore grip is also removable to mount
a number of accessories like flashlight, laser rangefinder/pointer, shotgun or grenade
launcher.
The rifle features built-in sensor use to send data to the helmet's hud to project a
crosshair indicating where the gun is pointing, though the sensor is somewhat lacking in
accuracy, the best way to fire the rifle accurately is to bring the sight up like any other
firearms of older days.
Concept created by [CE-Dev] BlindShooter: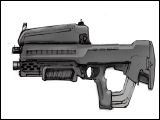 SAR38 DMR
Configuration : Traditional bullpup, electronic operation.
Magazine capacity : 25 rounds
Trigger group : Semi, Full
ROF : 600 RPM
SAR38 is a designated marksman rifle (DMR). It fires a powerful 8 X 50 mm. round and
it's effective range is 40% longer than the more modern M124.
The rifle is very light compare to other rifle firing the same cartridge, making it more
maneuverable but very hard to control in full auto, the reason which retired it from front line
assault rifle role to DMR role.
The rifle is now retrofitted with sophisticated computer fire control system and only
issued with 25 rounds magazine.
Now we have some concepts of the United World Alliance and their counterparts, the Aliens. This next image is a concept of the Alien Forces.
Concept created by [CE-Dev] Simon: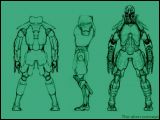 Here are two concepts of the UWA Soldiers.
Concept created by [CE-Dev] BlindShooter: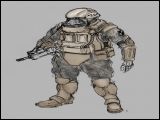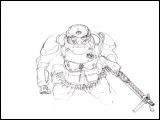 The UWA soldier will be outfitted with an all-weather, completely self-contained armored suit that can be used in all types of environment.
Also, [CE-Dev] Sidonuke is currently working on creating a King of the Hill mode.
Since this mod was created with the community in mind, we will have a section in each news update for concepts, renders, and anything else that is submitted to us by the community.
First up, we have the X117 Prototype assault rifle. While it has high recoil, it has a long maximum range and good accuracy. It also features a collapsible stock design, similar to the MP5. There is also a red-dot scope, as well as an iron sight for the built in 20mm grenade launcher. The X117 can be fired in semi-auto and automatic mode.
Concept created by Spartan117gw: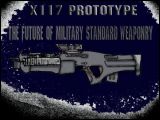 This next set of images are renders of a farmhouse and bridge.
Renders created by grimzentide: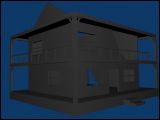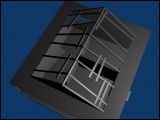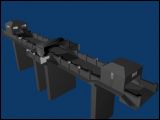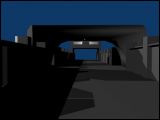 Finally, we have two renders of a barn.
Renders by {BSS}Guedoe: