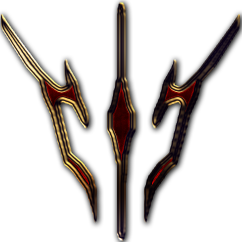 ---
Inventory
Imperial Uniform
Image & Details
An unmodified Imperial dress uniform.
FS-1 Farshot Sporting Blaster Rifle
Image & Details
A long-range rifle, popular on the frontier.
Galinolo XX, Diplomatic Edition
Image & Details
A sporting sidearm.
Songsteel Sword
Image & Details
A family heirloom made from Songsteel.
Companions
Placeholder
Image & Details
Placeholder text
---
Skillset
SkillA I - II - III
SkillB I - II - III - IV
SkillC I - II
Prestige Class: None
Spare Points: 0.
Spent Points: 0.
Slots: 0 (of 0).
---
Character Summary
Countess Freya Falkyria is the sole heir to the estate, following the tragic death of her parents; Magnus and Dorothea after their personal yacht suffered a cataclysmic malfunction. Her parents were decorated veterans of the Imperial Civil War, having served Emperor Kairn in the Agamar, Telos, and Mon Calamari campaigns. The family has served the Galactic Empire and its various incarnations for centuries through Continuity of Service.
Falkyria enlisted within the military to continue serving the Empire as her forebears had done and to ensure she can maintain her status and the estate. Soon after graduating Falkyria saw her first deployment during the Cyrillian Humiliation, serving on the star destroyer Judicator just like her parents had. Falkyria suffered injuries during the Dragon Fang incursion when a faulty computer terminal detonated, leaving her left arm and shoulder permanently marked.