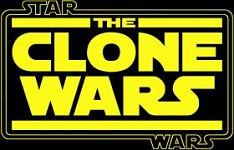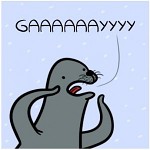 With this dreadful show in its final season (or at least I hope for the sake of humanity that it's in its final season) I thought I'd share my thoughts on it for the last time. If you don't like my thoughts, then don't read the damn blog :) If you wish to start a debate with me, I say just go back to fapping to Ahsoka because you wont change my mind. If you try to start a debate, your comment will be deleted for I have no desire to deal with you.
For four seasons, I have had the misfortune of watching this dreadful abomination to star wars you call a show. I had to stop watching it mid-way though the fourth season because I just could not bear to see the direction the show was taking. For the sake of analysis I'm going to start with an extremely short, barely a paragraph of what I liked about the series.
What I Liked:
I enjoyed a handful of the battles. Thats it. If I had to say which episode was my favorite, I'd say the one when their on the Rishi moon outpost. Needless to say SOME of the clone centered episodes where watchable.
What I Disliked (hated, loathed, despised, abhorred, more accurately describe it):
Oh jeez...where to start? I guess I could start with the glaring continuity issues. Leeland Chee, Keeper of the Holocron, recently started working on ingratiating the series into the timeline and it goes something like this: everything that is the predecessor to the series (comics, video games, novels, etc) have essentially been "thrown under the bus". A good analogy for it is that TCW is a drunk fat chick at a party. Everyone's having a good time, then TCW comes into the room and pushes people out of the way to make room for her bloated self, even completely knocking certain people down. Every event that takes place before the start of the series is squished into a period of about 4 months in between the Battle of Geonosis and the "Cat & Mouse" episode of TCW. As for the events that take place concurrent (at the same time) as the series... well let me just say good like trying to make sense of everything. Gone are the days when the comic books, novels, and video games dominated the Expanded Universe timeline from 21BBY- 19BBY now, pardon my language, the timeline is now a clusterfuck of events.
Ever since the series aired it has prematurely killed off characters (Evaan Piele), destroyed the back stories of characters (Assajj Ventress, Willhuff Tarkin), unnecessarily resurrected long dead characters (Darth Maul) and contradicted every clone wars era EU source as well as some of the films (Ahsoka, the Clones' genetics, Boba Fett, Assajj Ventress, Mandalorians being peace loving pussies. to name a few) . Its just unnecessary. I dont see why they couldn't have made AT LEAST an effort to try to fit in with the established timeline.
Now the atmosphere of the show. It just doesn't "feel" like Star Wars to me. I know it's geared towards a younger audience but it just feels so... gay. I don't mean it in the offensive sense but in the derogatory sense of the word. And, Ive found when I go back and watch CERTAIN cartoons from my childhood, they seem quite gay to me as well. I went back and watched the original Star Wars: Clone Wars miniseries to see if I could replicate my results and didn't find it so. In fact, it seemed more entertaining to me then when I was 11 and watching the episodes as they were brand new. I actually liked it better than the current series, which is surprising seeing that it's only a quarter as long as the current series (the miniseries is only 25 episodes, the new one is 100) and features a more outdated and somewhat primitive style of animation.
I feel that the show doesn't accurately represent the war. The battle droids, for one, are portrayed as incompetent and unable to perform even the most simplistic of tasks and not to mention their annoying shrill voices. I do like that the show tries to bring some individuality to the clones but all to often they make them too individualistic to the point where they start deserting and disobeying orders. This directly contradicts Episode II Attack of the Clones where it is explained that the Kaminoans tampered with Jango's DNA to make the clones obedient. This would make it impossible for the clones to desert and disobey orders.

If I could have directed and wrote the show, what would I have done?
I often think about this question. I would be lying if i said that i haven't dreamed of doing that since the series aired. First, I'd ditch cartoon network and go for a more mature network to broadcast my show. Next I'd get rid of the cartoony style (Giant Bulbous Super battle droid, pointy beards, wooden textures, etc) and opt for better CGI graphics. Ive thought about doing live action but i doubt i could get Hayden Christianson, Nataly portman, Ewen Mcgreggor, Temurea Morrison (my freaking Idol), etc to do the series. Next I'd scrap the Ahsoka character, she's the worst in my opinion. As for the story, essentially, i'd basically do an on-screen interpretation of the comics, novels, and videogames which are the true heart and soul of Expanded Universe. Die hard fans of EU would be having nerd-ghasms as their favorite events form the comics, novels, and video games are being acted out on the TV screen. One episode would be Durge reaking havoc on Ohma Dun and Anakin/ Alpha-17 try to stop him, another episode could be the epic battle of Boz Pity (it would probably be a fanaly of one of the seasons).
Well those are my final thoughts on Star Wars: The Clone Wars. Should you take this as a personal attack? no not at all. This is Me voicing my Opinion. Should you hate me for my Opinion? No that would be unfair, I'm actually a pretty cool person once you get to know me but i digress.