Saloon Redesign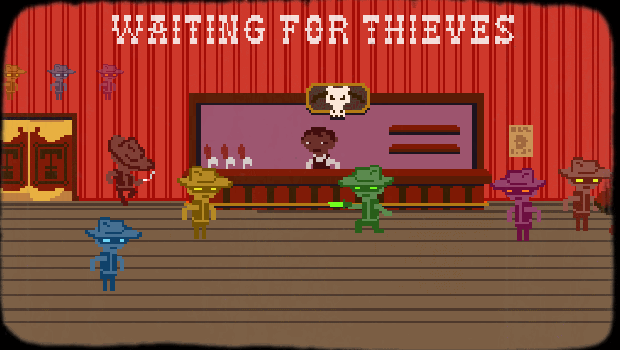 All of the temporary graphics in the saloon menu are finally gone!
We decided to make a dynamic zoomed-in camera for the new saloon to get rid of some of the dead space and make the art look way nicer. It smooth follows a little in front of the player and looks great! To either side of the image is the pianist (audio toggle) and a credits table. Eventually there will be a few other toggleable options (full screen, LAN reset, etc) in here as well. We are planning on adding a few more details to the art here to polish it up even more.
Sandstorms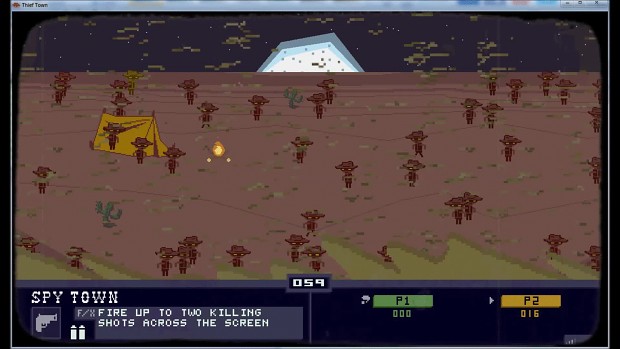 The game now features random sandstorms during some of the rounds. When these occur, visibility is lowered a bit and the sandstorm covers the whole map. This complicates the game quite a bit because, with constant movement everywhere on the screen at once, it is much harder to notice when a player messes up their movements.
I tried to gif this up but I couldn't quite tweak the image to look nice enough and still fit within the 4MB size limit, but take my word for it: it looks SICK.
Audio
Electronic musician ABSRDST has agreed to make music for the game, and has already written the saloon track! Check it out here.
Other Stuff
Along with the other changes, a lot of small details have been added:
Between round screens now display a short tip on the bottom such as "The first kill is worth more", etc.
Round transitions also now include a giant tumbleweed wipe.
Every once in a while a giant tumbleweed spawns in game. I'm not disclosing what it does just yet...
Improved game performance on Android.
Finally
This is pretty last minute, but myself and Dave Gedarovich (Noir Syndrome developer) will be at Boston Indies tonight at MIT in Boston, so if you're around and would like to play some Thief Town or Noir Syndrome, make sure you show up!
Anyway, the game is still coming together on schedule for an April release. The next big things to add are sudden death standoffs. I'll have another post in a week or two!