Crafting Basics: Berries and Potions
Basically, in Survival Island, you're going to need to need to heal your Pokémon in the field. But, without the family-friendly PokéMarts around, you're gonna have to make them all yourself.
Background
Berries have been around since Generation II, but in Survival Island they use the Generation III berry mechanics.
Finding berries out in the wild is a pretty simple process, but knowing what to do with them is a little more complicated. Sitrus berries are one half of the main ingredients to all healing solutions. On their own, they heal a small portion of health, but when combined with Qualot berries (formerly only a Pokéblock ingredient), they become much more potent. All potions and healing solutions can be crafted at a brewing pot.
Chart
Here's the crafting chart: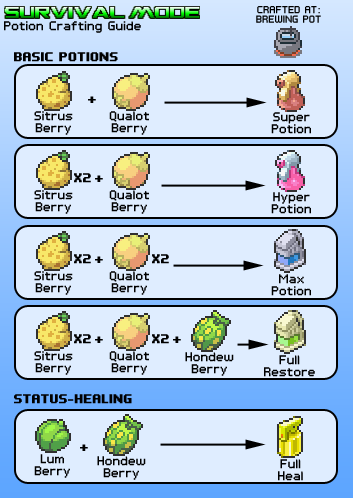 Farming
Farming berries is easy. First, you need to find a berry plant and pick the berries. Then, plant the berry in soil. Different types of berries take longer to grow, but usually not much longer than a few hours of gameplay. When fully grown, pick and repeat. It's a good habit to always keep a berry in your inventory so that you can always re-grow a berry plant when you run out.