Crafting Basics: Advanced Medicine
In Survival Island, Pokémon tend to faint often - and most of the time, your base camp will be on the other side of a thick wall of tall grass. It's possible to lose in Survival Island, so you're going to want to come prepared for anything.
First up, we'll talk about Herbal Medicine and Vitamins. These include Energy Powder, Heal Powder, HP UPs, PP UPs and Rare Candies. The berry plants these all come from tend to be rare, and grow slower than other berry plants. On the Herbal Medicine side, you have Energy Powder (cures all status ailments) and Heal Powder (heals 50 HP) - these can be crafted from just one Sitrus or Lum berry.
On the Vitamin Side, you already know what these do - and to be honest, I bet most people will probably want to save up all their Cornn and Magost berries for Rare Candies.
Here's the chart: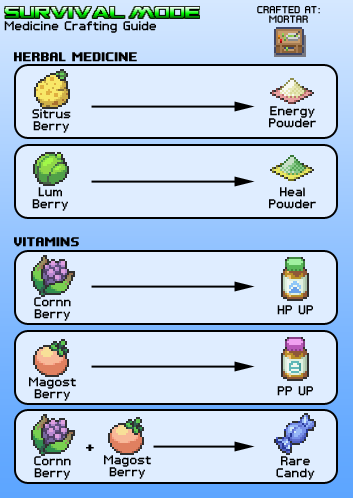 Next are the Revives, Ethers and Elixirs. The plants needed to craft these items are also fairly rare, but tend to have more uses in crafting other items. Only Max Ethers are available in Survival Mode, as the Leppa Berry shares the same effect (restore 10 PP to a move).
Here's the chart: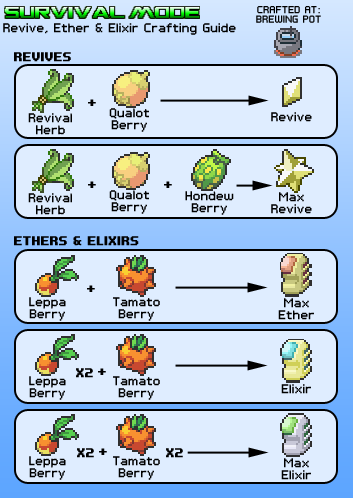 Aaaand that's all that exists for item crafting in the current demo release. Hopefully this will keep everyone satisfied for now. However, there may be additional crafting recipes added in the future, that further expand on what items are available in the game.