The visual aspect of carts, with the help of a stranger
Hi all, before my visit to Paris (which by the way inspired me to add underground trains), I told you about how I was busy implenting carts. Although not fully finished, they're nearing completion right now. The most important thing I added since last time is the visual aspect of using carts:

For this animation I should give credit to an unknown old lady that happened to be sitting next to me in the train a few weeks ago; as I have to sit in the train for 75 minutes for my one of my jobs (and also 75 minutes to get back), I do a lot of the Olvand artwork there. I often note that working on pixel art sparks the interest of other travelers who are able to see what's on my screen (as it's probably a lot more interesting than Excel sheets), but they rarely have the courage to ask my what I'm doing - not that I would in their place. However, this old lady not only started asking questions right away, but even gave suggestions. One of the suggestions she did was that the cart shouldn't be too close to the player. I told her I would think of it then, thinking she didn't know what she was talking about, but when I reviewed the animation later I saw she was absolutely right. So here you go, an animation be me and an unknown old lady :).
Campfires
When thinking about what carts would be mainly used for, I realized that this will probably be mining: right now, you can only hold 6 pieces of stone at a time, which means you have to walk back and forth between your mine and construction site several times. With carts, you can hold a lot more material at once, making the whole process much more efficient.
However, right now, when you're mining, you're mainly doing two things: (1) you're shooting fire around you, to light up the area, and (2) you're shooting at the rocks, to mine. Both can done with the gun in your hand. If I want to add carts to this process, which you also have to hold in your hand, the player is not only going to have to light up the room and shoot at the rocks, but also constantly going to have to move around the cart, to make sure he still has it with him. I fear this might make things to annoying, so I've decided I'm going to make one of these three activities easier and add a 'tool' that significantly decreases the amount of times you have to pay attention to lighting: campfires. Here's how that looks, with various types of fire:

And here's how you make it: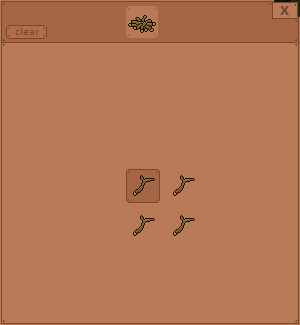 Pretty easy, as you obtain branches everywhere. And because of that, this easy-to-create long-lasting light source can serve another purpose as well: imagine exploring the woods far from home, and suddenly the night falls in. Shooting fire around you all the time might get a bit annoying, make a lamppost too expensive... but a campfire is perfect!
If you want more development, see [twitter] or [facebook]. If you want to be a tester, you can subscribe on [olvand.com].