Turn the engines on, load up the weapons, charge the shields!
The story of Leviathan Crossfire will include a massive battle in space. The enemy Rakans send their most powerful weapons against the planet Nuvebe - and the friendly Nuvebians are trying to keep the huge Rakan Leviathan warship from reaching their home planet. So, in order to save their people, they engage the huge ship directly in open space. This massive, direct attack is an action of pure desperation, but nevertheless enables the Nuvebians to get a few elite soldiers onboard the Leviathan during the battle, right before it can jump into Hyperspace and head for the planet Nuvebe.
The Nuvebian fleet does not only face the well armed Leviathan itself, but also the dangerous Rakan one man fighters that effectively keep hostile ships from even only getting near enough to the Leviathan to do a useful amount of damage.
Rakan One Man Fighter
The Rakan fighters are equipped with a dual laser gun doing rather average damage, but their triple power drive makes the ship very agile and allows the pilot to avoid enemy fire quite easily and get almost every target in the crosshair within seconds, with auto aiming support. The well trained pilots of these fighters are feared in the Nuvebian fleet, for once they got as you a target, you usually don't get them off your own fighter anymore.
Here are the concepts: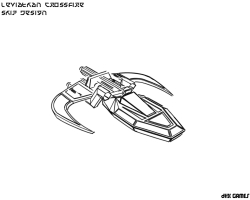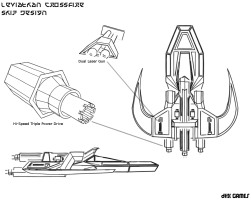 Sad but true, you won't be able to fly the ships yourself (awwwh! - I know!). But they will be used for video sequences and friendly and enemy in-game footage.
Behind the Scenes
SPY-maps wrote: nice to see a new drawing as update, but is this really all that you have been doing lately? or is there some new still hidden content that awaits us?
Very good question! And it does deserve an answer: We are working on more stuff behind the scenes! If you are personally not a fan of concept arts, well... you'll get through it, considering some of the coming updates
We are, of course, already working on more ships!
But, people, furthermore, there is a lot of ... uhm ... very different stuff going on, we got many assets that are half-way finished, and that evolve commonly, in steps. It's not easy to create a game experience where things fit together. Ok, I see - I'll need to get you a little more excited: One of these assets is a first video trailer we're working on! But it'll still take a little more time, because - a trailer needs more or less finished content! Same goes for level design, we ARE already shaping out quite same playable basic designs, especially for the demo we hope to release soon, but these designs do still need some polishing until they can be playable and fun. 3D models, textures... don't worry, we're on all of this, and we'll show you what we've got once it's at least quite nice lookin'
Thanks to SPY-maps for the question! :)
Jobs
We are still looking for support! Some have already joined us, but time seems to be rare and we do still need assistance in these areas:
- Character Artist
- Weapon Modeller
If you think you can spend just a little time on it, and wish to help an indie game evolve - then go for it, we need you: Contact us!
That's it for today,
all the best,
- Dominik
dhk Games