Added a "Basics & Building" tutorial. This is something everyone starting with KAG should play first. Something like this might be mandatory to pass through in the future so that new players don't spoil the fun for people already playing.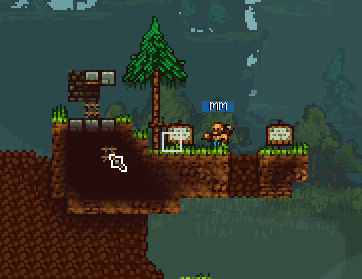 Fixed numerous most critical bugs. Please report if any of the mentioned bugs still remain.
Beware griefers! Mods can now freeze you by pointing at you with the mouse cursor and pressing [F3]. If you didn't do anything illegal you can explain yourself during this time.
Changes 151-154:
- added "Basics & Building" tutorial
- added password prompt in server browser
- added moderator key [F3] to freeze a player
- fixed map tile desynchronization on game join
- fixed chat console not scrolling when joined game
- added infinite resources on warmup
- lowered amount of resources on round start (100 wood and stone)
- lowered amount of wood falling out of destroyed catapult or tent to 30
- builder automatically picks up stone and wood parts
- fixed castle background blocks requiring support
- fixed /kickid names display on Linux
- removed clantag brackets (default name separator is space; other chars can act as separator)
- cannot pull catapult while holding [F]
- fixed minimap dissapearing on death
- dedicated_autostart.cfg and mapcycle.cfg don't get autoupdated
- fixed server map preview memory leak

Hotfix released:
- fixed 4 crash reasons

Changes 154-156:
- unlimited resources on warmup removed (get 250 stone and 100 in tent)
- fixed creative/sandbox mode resources
- when max resource limit reached item falls out
- fixed picking resource item when full
- added circle on player when freezed
- fixed flag scored when touched on flag carrier
- fixed unsupported resolutions in fullscreen
- fixed frozen players dying
- fixed server browser sorting
- sort selection in browser is saved
- teams open doors can't be destroy by team members
- fixed collapsing issues (floating blocks & not all blocks collapsing)
- fixed crash on start for old video cards

Changes 156-157:
- added "nocollapsing_nearspawn" variable to game rules file (CTF/gamemode.cfg)
- near spawn collapses prevention works for larger structures only (>15 blocks)
- fixed collapsing issues again
- fixed unbuildable spots bugs
- fixed crash reason
- fixed not being able to return to menu after disconnect
- knight image files height correction