After weeks of vetting on the market, the arcade-shooter-pinball-game Hyperspace Pinball is now available on Google Play for FREE! Look for it on Google Play from your Android device, or visit Market.android.com to learn more!
Features include:
20 levels of play: Each level has a unique background and variety of enemies all with unique capabilities; including boss battles every five levels! Three levels of difficulty let you work your way from learning how to play to scoring big points!
Combos, power-ups and enhancements: Score big combos by hitting as many aliens as possible before the ball touches the flipper. The more power-ups you gather, the more powerful the ball becomes and the more fun you have! Enhancements include multiball, extra balls, replays, score multipliers, and bonus points.
Endurance mode: This is a special game mode where you only get one ball and you try to rack up as many alien kills as possible. Spend hours beating your old record!
Boss run challenge mode: How fast can you get past the nasty bosses?
Global leaderboards! Get the best score, and stand up for your platform!
New features for iOS 1.4 include:
New enhancement: Atom Bomb
New feature: Spiral bonuses. Get them before they disappear!
Tapping the screen now shifts the the bonus highlights
Performance improvements and improved difficulty balancing
Check out these screenshots!
THE WAR BETWEEN iOS AND ANDROID HAS BEGUN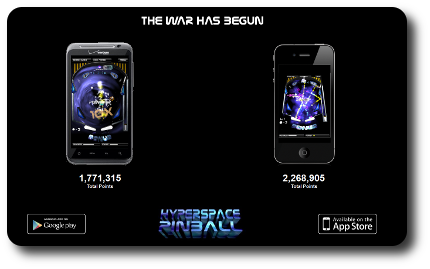 Ordinarily I would say taking a screenshot from a website is unusual, but we now have a webpage up that tracks the grand total number of points earned by players on each mobile platform real-time! If yo're an Android user, this is the time to get all your friends to download Hyperspace Pinball for free and step up to those Apple players! The competition could get fierce, so if you have an iPhone or an iPad, you should bring your friends in, too! Hyperspace Pinball for iOS also connects to the global leaderboards; and the free version will have that feature just as soon as it gets approved by Apple!
At the time of this writing, iOS is in the lead with 2,268,905 points to Android's 1,771,315!
So what are you waiting for? Get your copy today!
Oh, just one more thing...If you'd rather play it on the PC....*turns left*....*turns right*....your day is coming soon...