So if you haven't heard, on top of being developed live on TwitchTv, Booommm's base gameplay will be undergoing some changes to make it easier to learn.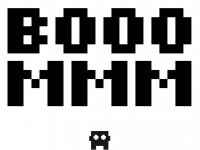 On top of being in pure black and white, Booommm's focus is really on its gameplay. While the original idea was to have you move around to get all the bombs from touching them, it has now evolved to something simpler.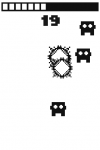 Now, you will have to attempt to click/tap on the robots while they bounce off each other and the walls. While this seems really simple at first glance, the game's difficulty will increase exponentially with each passing second.
As with before, each clicked/tapped enemy will net you 1 point and 1 second on the timer bar. However, the timer bar decreases rather rapidly so it gets harder with the enemies moving faster and faster. This change is to simplify the gameplay so that it will be easier for you to pick up the game but extremely hard to master.
So what do you think? Do you think you can beat my legit high score of 27 using your mouse?