Hey all,
Mini ships are here, but they are not finished yet! They will be mostly playable in single player games, and kinda buggy in multiplayer games. I also have to get some cockpit images implemented -- but its coming! Some texture improvements are coming for them too: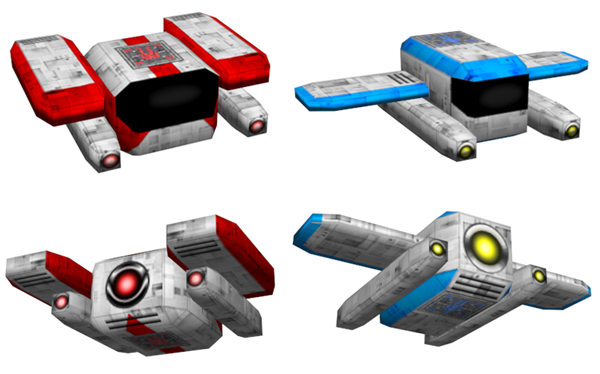 Also, 3D improvements are in with new settings, which should really help out the "slow walking" problem with low-performance graphics cards (e.g. Intel HD cards).
I've also added some other improvements, like a chat log (which replaces the /history command) that can be toggled with the ~ (tilde) key & server security options. Fixed some bugs too, like the "guys getting stuck in buildings" and grappling hooks not disappearing in multiplayer games.
Here are the complete list of changes:
Mini fighters "Work in Progress": Buggy in multiplayer, missing cockpit graphics etc.
Huge 3D performance improvements: Intel HD cards should work much better now!
Character collision problems / getting stuck in buildings should be fixed
More polished & detailed textures from Urcheon -- thanks!
Characters will no longer auto-follow you in multiplayer
Fixed underwater textures
Fixed a few rare crashes, some that only affected servers
Fixed a bug that caused some projectiles to not show up in multiplayer games
Fixed grappling hooks from not disappearing in multiplayer games
Added password protection options for servers
Added banning ability for servers
Made explosions a bit quieter
Extended the demo time period by 30%
Made the sniper rifle require a bit more energy to fire
/history now shows a chat log that can be toggled with the ~ (tilde) key
Fixed a bug that made quest item names not appear in a quest description
Using /goto or /home now disconnects you from a grappling hook
Tweaked some logic in the "protection" quest to try and resolve a bug report
Other more minor performance and bandwidth improvements