Great news that you feel it just keeps getting better and I look forward to our first dev chat regarding the sounds in the game, not sure on that big you mentioned but ill look into it.
Haha fab another fan I'm so glad I carried on with this project now it's really getting a following.
If you want to please Like my Facebook page at:
www.facebook.com/Karmageddonchaos
Ok a few bits to update you on. I have now fixed an issue were after hitting an object while sliding the car would self right while stationery.
Another improvement to note is that the rotation now alters depending on what speed you are doing.
Update
The Retrolistic engine is finally polished enough to add to KK! Added a new feature to the handling, replaced mesh backdrop with sandbox level again and added all the objects to collide with and the collisions are great this time round no more sticking to objects and going through other ones.
Here is a pic of the latest feature.
Follow KK on Twitter for daily exclusive updates
@kkindiegame
Update
The team have been working extra hard to give you some news before the big bearded one comes down your chimney :p
Here's the latest.
We have peds! Not just one type or two we have 9 different types of ped to splat now, if that wasn't enough the way they splat is far better then the original KK, peds now have different dead poses, so sometimes they are on their fronts, sometimes their backs and sometimes even chopped in half.
My fave bit is that blood flys off when you hit peds which splats either when it hits the ground or hits a building.
Is that all your christmas presents from the team at KK? No! My sound man is in the middle of making all the cars in KK sound big and growly, the splat sound has now been added which I can report makes run over peds even more satisfying

There will be a different splat sound for each ped type which should add some variety.
Right to finish all this off have some pics.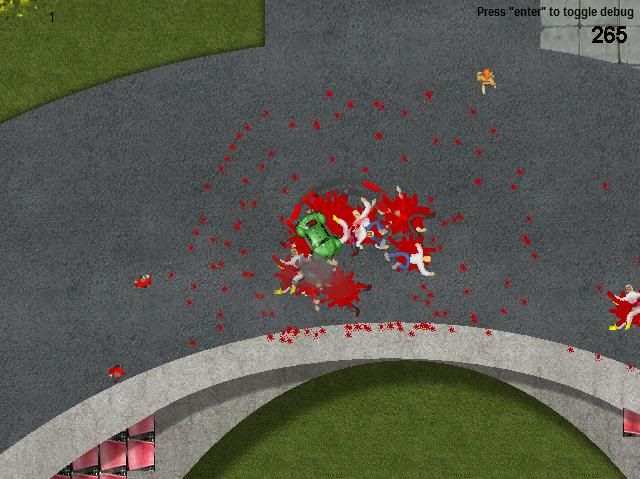 And here's another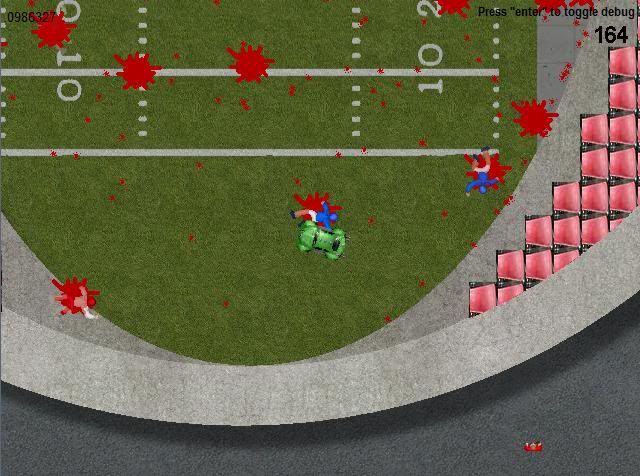 And one last one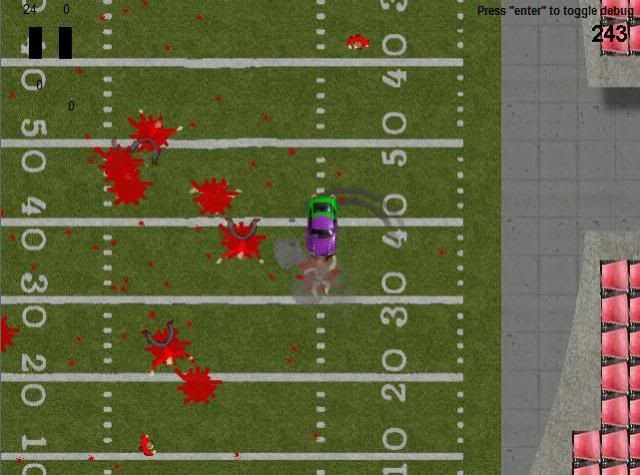 The AI engine is once again underway now we have the new handling engine more or less sorted, i managed to knuckle down and get some work done on it last night.The car collection is building once again, so far there is now 2 cars in the game, one of them is my take on the Mighty Eagle with the roof mounted exhausts. More cars coming really soon, you will only see so many of them though as want to keep most of the mottahs as a surprise.
Well i was up till nearly 3am last night but man i got a lot of work done so its worth it! I've fixed some bugs, altered frame rate so it runs a little smoother, it now runs at a steady 45 FPS.
I've sorted a system so i can easily keep adding cars, all cars have different stats and won't be just different skins. The main stats for each car are speed, handling, acceleration and braking. In reality though i have many ways of making the cars different, i have turning grip, front end lightness, reverse turning, forward turning, drift settings, brake settings, top speed settings, acceleration settings and what speed the car becomes unstable at as well so a heck of a lot of perimeters.
KK has now got 9 vehicles split into 4 categories.
The final number of vehicles in the game is 21 included in them is several bonus vehicles.
Our sound designer is currently working on creating a folder of sounds for KK, i've been working some more on the collisions and this now means that you can wall scrape but if you hit a wall head on you now bounce off it which is far better then before.
Sumo is hard at work on the AI Pathfinding engine and we are all currently designing the next enviroment which is a dark futuristic city.
Update

I thought id give you an update of the goings on regarding Karmageddon Khaos as it's moving along at a great pace, should be finished this year (i hope) and if all goes well should be converted to Ouya sometime in 2014.
Right then on with the update
Firstly i had an interview with Indie Function Magazine which you can read below
After that i had a pretty big break, things got complex between me and some of the team,
After the long break i got straight involved in adding power ups to the game as the AI development was put on hold and actually still is till Summer.
Started with adding
Then got all the damage working for all the cars in the game (all 19 of them)
fixed collisions further, then it was time to add.
Then it was time for the Twatcat to enter into KK, a very tongue in cheek version of another cat that went Viral on the web
What could be more mighty then a double ended axe spinning on your roof?
this is getting to be pretty long now hmmm, ok so next there was work on the car select screen, adding more cars, adding achievements which save when you get them, menus, new risk vs reward gambling mechanic added, loads of bug fixes, peds don't stick inside walls and you now know how many peds are left to splat.
Combos and streak bonus are now in too, new HUD, collisions for cars improved again, funky blood mist effect was added as you can see below.
Erm what else

oh yeh started work on the next power up called BBQ Bonus.
And finally i can now announce the two bands which will be making the music for KK, they are;
Bassquake8
Terminal Fear
Well that's it so far, any questions just ask

Bump
Edited by: rosse119