Ovelia: The Wake is a game blending platform puzzles and action. Your goal on each level is to find your way through a puzzle to the exit, and the way there requires jumping, dashing, running on walls and occasionally shooting. Much of the enjoyment from the early game will be to discover (rather than unlock) how to do these things and steadily get better at executing them. So towards the end of the game, you'll be chaining abilities together in over-the-top combos, overcoming obstacles with ease that you thought were impossible at first.
In other words, READING ON FROM HERE MAY SPOIL THE JOY OF EXPLORING YOUR ABILITIES. However, we'll have to spoil it when we show the game in action. Read on only if you don't mind.
---
PLATFORMING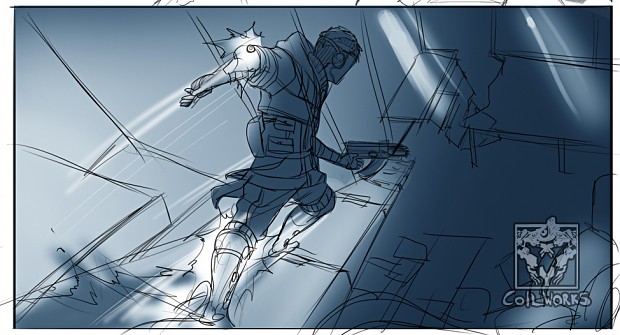 Most of the abilities can be split up into regular abilities and boost abilities. Regular abilities are confined to the limitations of gravity. The boost abilities draw energy from Dare's anti-gravity booster, which means they don't have the limitation of gravity as long as it's active, but it's restrained by the booster's energy. Energy recharges if left unused for a while, so you're likely to begin each combo with maximum energy.
The following are the basics. Remember, you can chain these things together as long as there's energy for it.
Dash
One of the simplest abilities, but also one of the most powerful in the hands of a skilled player, is the dash. By drawing energy from the boosters, Dare flings himself several meters ahead at high velocity. Dashing can save a lot of time, but it hurts quite a bit if you hit something.
Jump
Well, it's a jump. Wouldn't be much platforming without it! You can even use those boost powers to jump while in the air.
Wall run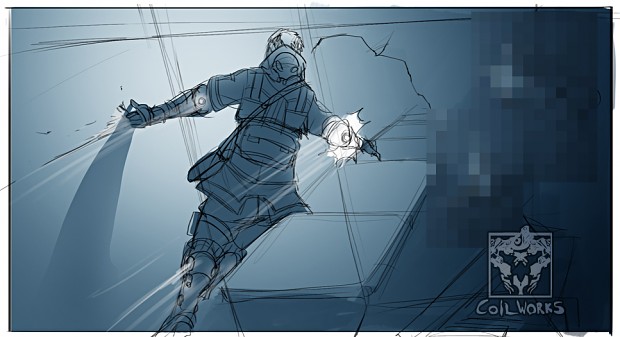 Like many modern games, there are walls, and with walls come a desire to run on them. Using his regular skills, Dare can run up or along a wall for a little bit. Drawing energy from the boosters, however, it's incredibly more powerful - or what about running up a wall almost five times your own height? Or along it for almost double the distance, being able to dodge obstacles both above and below you with proper use? The wall run boost is one of those abilities which, when you get a hold of it, you'll feel clunky without.
There are many more abilities, many depending on context, but a player aware of these basics is likely to be fine - at least for the few opening levels. Did we mention we want this to be a challenge?
ACTION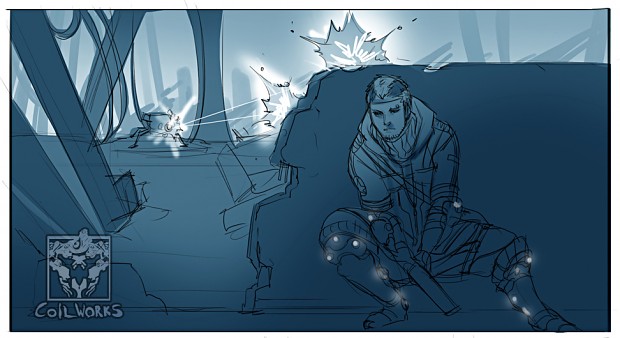 When we've described to test subjects (aka "friends") how the game works, some concern has been raised about how we intend to mix combat and puzzle platforming successfully, like they would be oil and water. However, like the 2D platform/combat games of old showed again and again, combat and platforming can work well together if you design with it in mind. From a game design perspective, something shooting at you and a wall blocking your path are both obstacles, which can be solved with the right tools at the player's disposal.
The shooting, in other words, is a tool. As you progress through the game, you'll have just about enough bullets to stun a few targets temporarily or defeat fewer small but durable targets. Ammunition can be regained, but the cap is still low, so every bullet is a valuable resource. To those who worry their not-so-trained trigger fingers will limit them, we strive for always having a pacifistic but more demanding platform-y way to get through these moments. You don't have to depend on ammo, if you don't prefer it.
---
What these obstacles are, and how you solve them, is slightly off this topic and thus a story for another time.