---
---
This tutorial shows basic skills which will help you to make land maps for your custom planets.
Required tools
For making maps you need to download the Map Editor. You can get it on Petroglyph web-site, that is the link.
Then just install the tool into FOC root folder. Don't forget to download the patch for the editor, if you won't do this you will face many unpleasant problems (unpatched tool breaks mtd commandbar, as far as I know), so it is better to keep the editor updated.
I also recommend you to have Photoshop (or any other useful graphics editor) for making a height map - an image which can be loaded into the editor for generating landscapes. The first video will be about that, so if you're not interested in this moment you can skip that part.

After everything is done you will be in need of making a mini-map, for this purpose you have to go on Modtools.Petrolution.net again. There you can download a Map Preview Extractor which will create a mini-map for your map.
While extracting a mini-map for preview, resize it to 512x512 and convert to .dds format.
Height map
That is the first video for this tutorial, there I show how to make a simple height map in Photoshop.
The Editor
The second video is about the map editor, there you will see all steps to make a complete map.
I also suggest you to switch on the subtitles, because from time to time some useful hints will appear on the videos in subs.
Map Preview Extractor and finish steps
The final step is making a mini-map, as I mentioned before. Open your MPE tool and load your map in there, it will create a file which is needed to be placed in such root: ".../Data/Art/Textures".
Then just code your map in the game. Open the xml-file with coded-in planets (Planets.xml, for example). Choose a planet which your map was made for, find a line named as and just insert the name of your map (Your map should be placed in 'Maps' folder).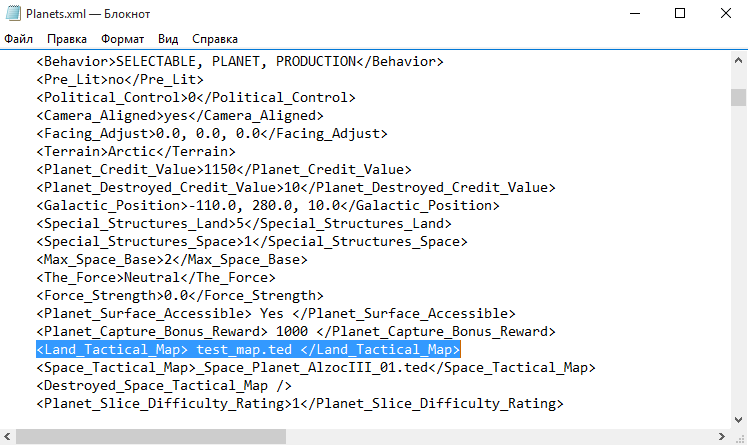 That is all! If you have found some mistakes in this article, please note us.
---