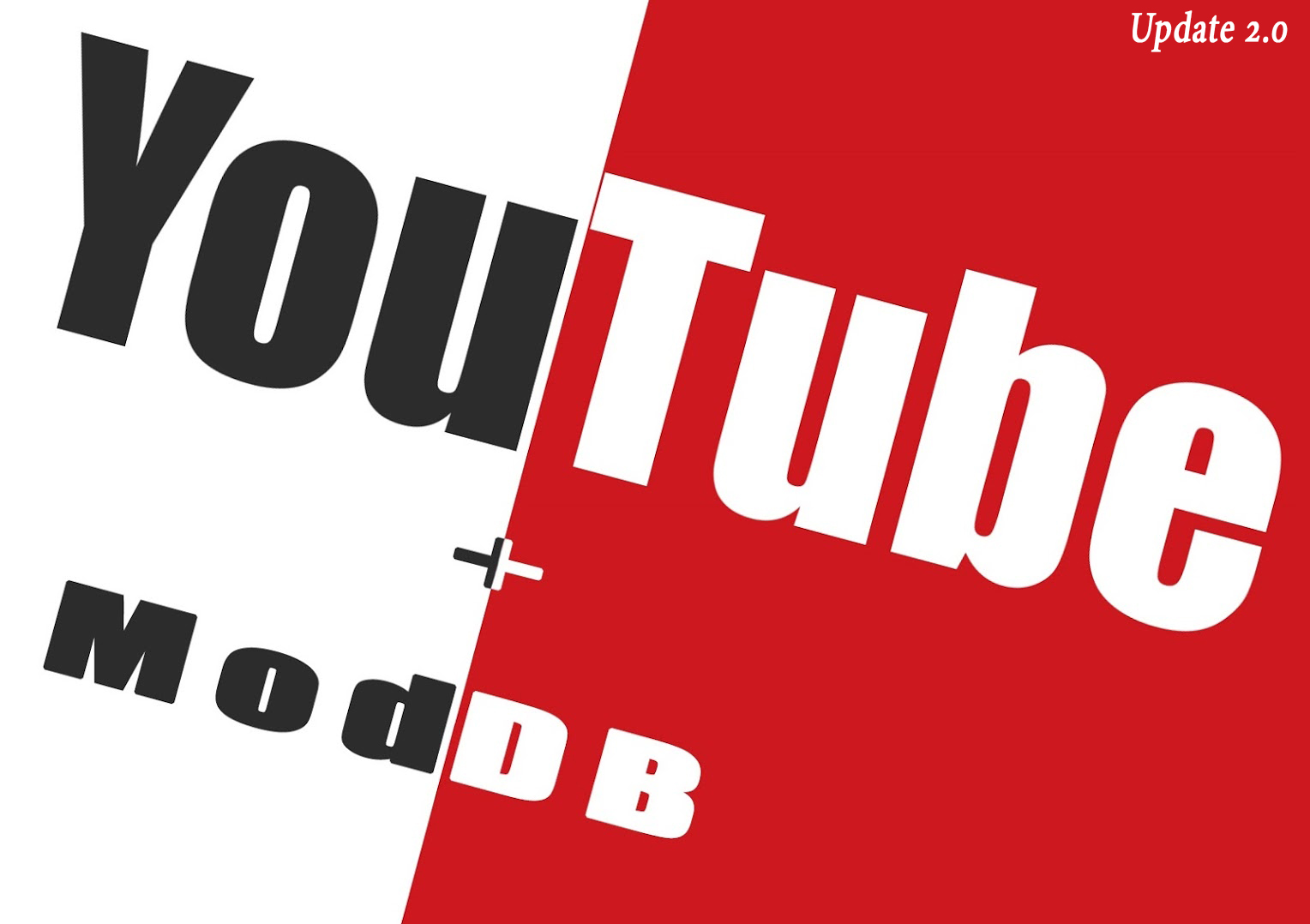 Tips about autoplay for your profil on ModDB
This will show a simple way to make a video that play itself on your profile
When one is visiting your profile
Step 01: (YouTube.com) You should just find a video from Youtube that you want to use as music or a funny video of your choice that you want to use here on this website (So here you only need to copy the link to the video when you are inside.)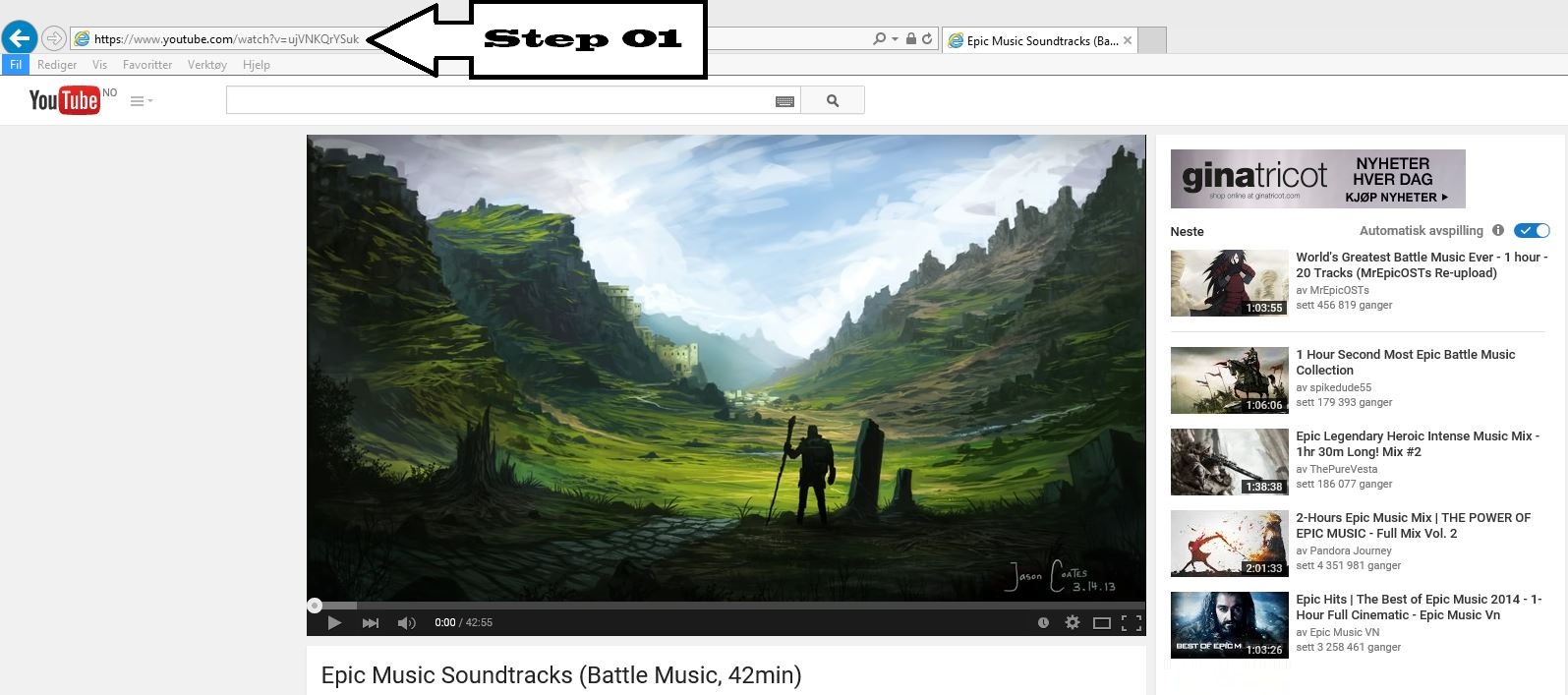 ---
(Go to next photo)

Step 02: (Valid XHTML YouTube) Part 1: After You've found your video on Youtube and copied it, you have to copy the link into the opne window on part 1 as you can see in the picture below.
Part 2: Should you type 625 in (Width) and then type 350 in the (Height) this is the best size to use in mine opinion, you will know later on after this.
Part 3:There you have three choices and you should only press (AutoPlay) that's the only one you need for the video to play itself on your profile.
Part 4: Press (Generate Code) So the formula will create itself, after your settings.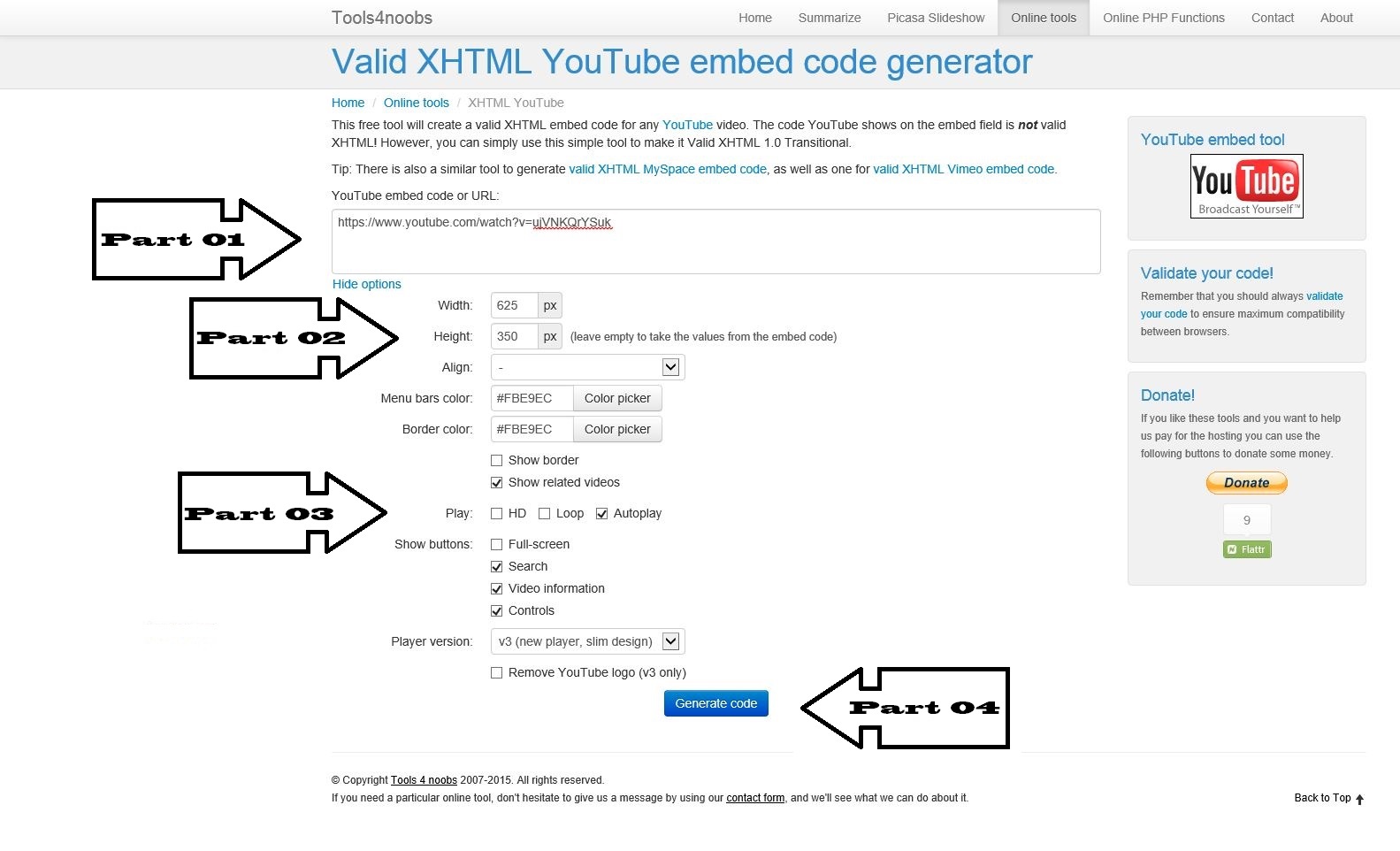 ---
(Go to next photo)
Step 03: After you have pressed (Generate Code) you will get this picture, this will show that the video play itself.
Part 1: Here you should only do one thing, the picture you can see below, copy from (http:) and all the way to the (amp;) It's everything you need, if you copy more than that it will come text from the video that appears in your blog that is just unnecessary to have...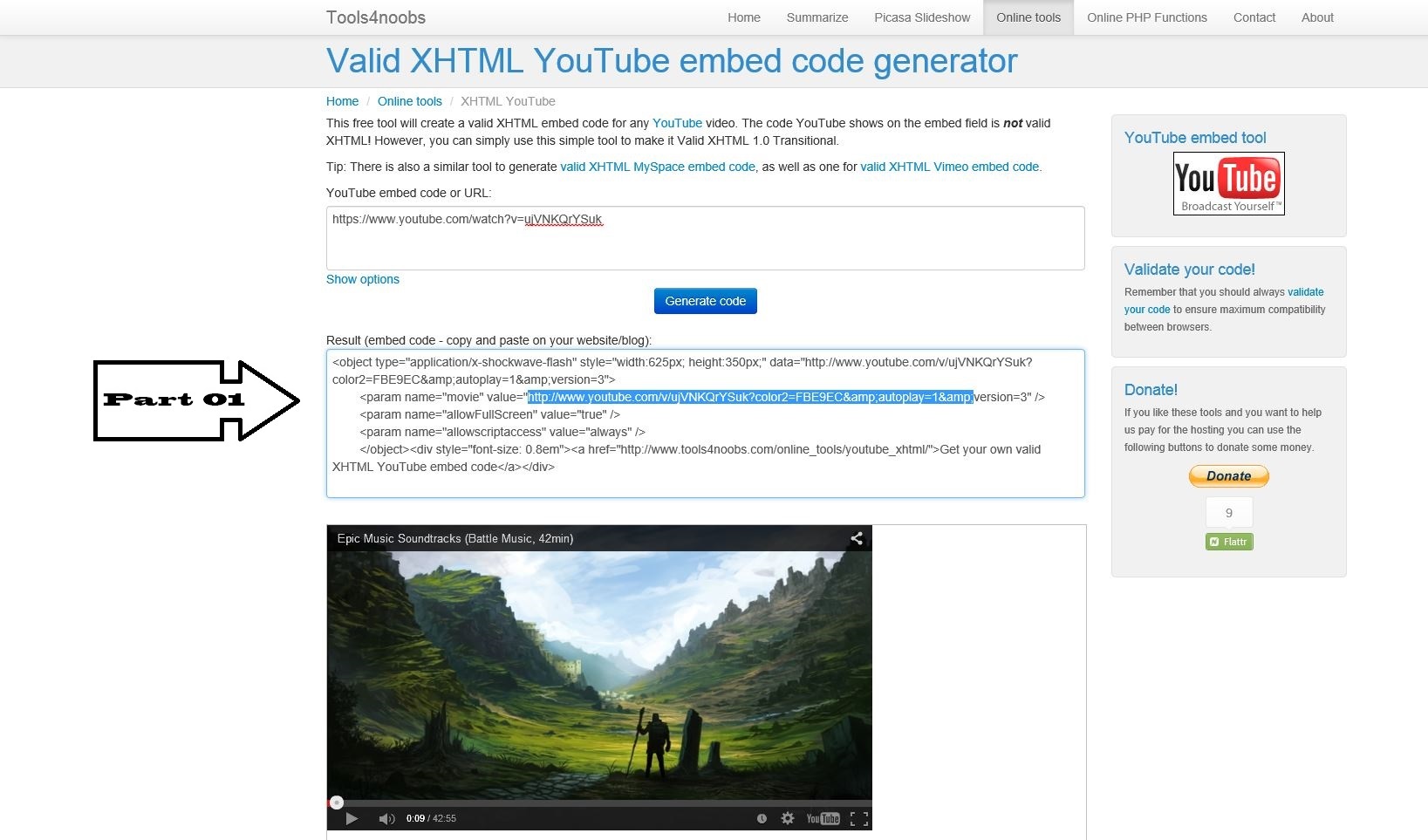 ---
Very important: This is a code that you will use to complete the formula as you can see below this, copy the code text to a "notebook" or "Word" somewhere you can write freely.
---
<object width="625" height="350" classid="clsid:d27cdb6e-ae6d-11cf-96b8-444553540000" codebase="http://download.macromedia.com/pub/shockwave/cabs/flash/swflash.cab#version=6,0,40,0">
<param name="src" value="" />
<param name="type" value="application/x-shockwave-flash" /><embed src="" type="application/x-shockwave-flash" width="625" height="350" /></object>
---
And do as I have done below this, copy the code that was created in Valid XHTML YouTube and paste it in to two locations in the code between "" marks.
---
(Go to next photo)
Step 04: (ModDB.com) Now you should go to your own profile on the website and press (PostBlog) until you get up such a pictureas I have below here.
Part 1: Here you have the possibility to insert a picture or anything else but getting to insert a video, press this button named (Insert / edit embedded video) so you get up the part that shows "Part 2" on the photo below this.
Part 2: Now you will copy the formula that you have created and past it into the (Embed)
Part 3: After you have entered the code "Embed" check for inside the "General" you will see a youtube link that has been added to the "Source" if there is a youtube link there ,then the code works. If there is not a link there, then there is something wrong with the code.
Example: You can create an invisible video that make it so you can't see the video, but you can hear the music. Then you should write 0 inside (Width) and simply type 0 in the (Height) you don't need to have 1 in width for the video to be there anymore. There after you only need to press (OK) which is the Blue button in the "General" to paste the video to the blog.
Part 4: After you have placed your video in to your blog, then press once at the video and there after pressing (Center align) that are listed in the "Content menu" to place video in the middle of your blog for best overview only if the video is not invisible.
If you have done an invisible video, you will notice that there is only atiny dot that comes on your blog. If the video has only one pixelin height and 0 in width no one can see the video, but video will still play music in the background after you have finished everything. Now you only need to press (Save Blog) bottom of the page and see if it works.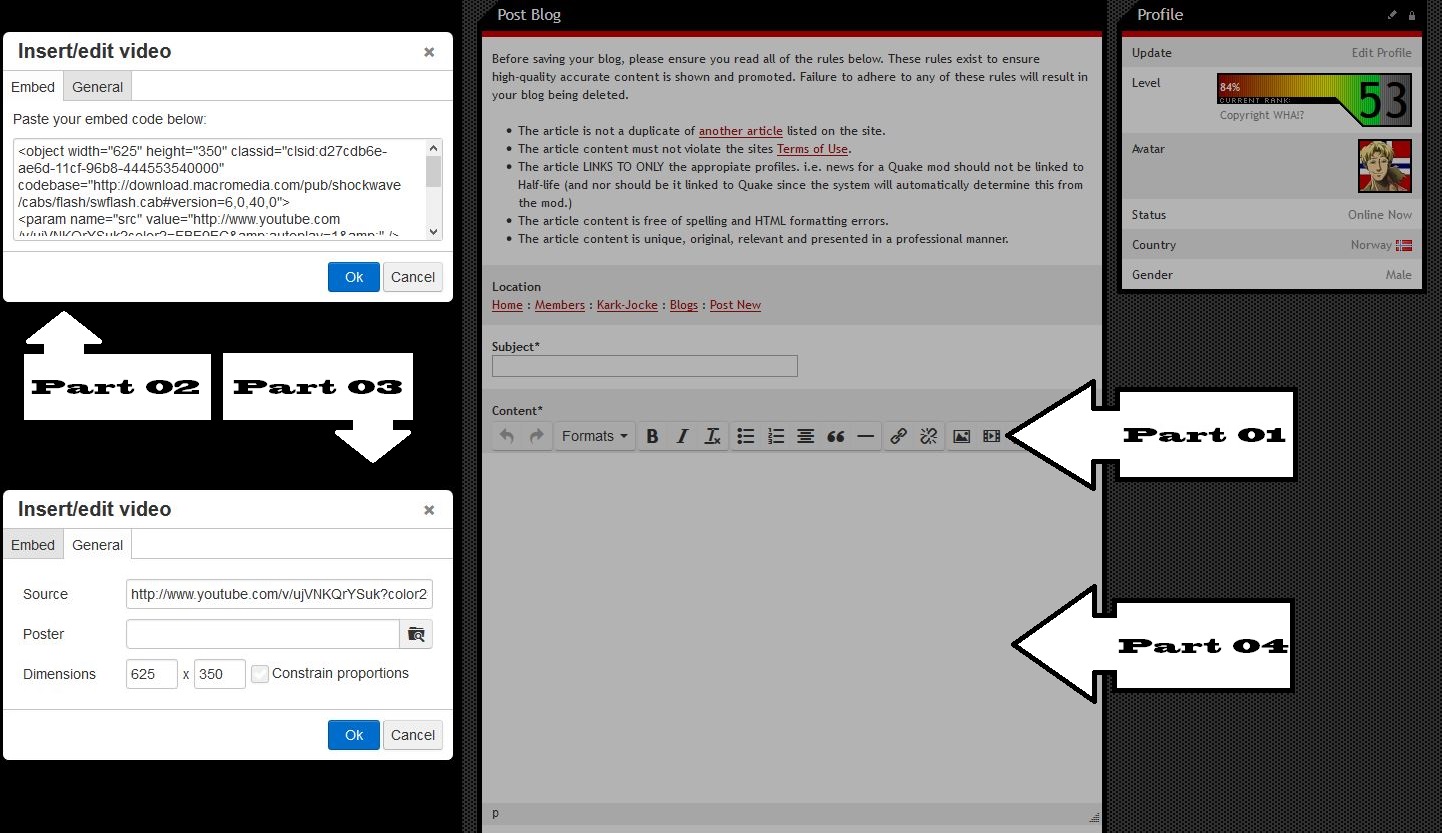 If you have any question, please comment here
Or send me a private message anytime, and I will answer it soon as I can
---