TOTE AUTOMATIC INSTALLATION INSTRUCTIONS:
Go to download section get and install the NCF Utility and configure your game with just a few clicks.

TOTE MANUAL INSTALLATION INSTRUCTIONS:
1. Make sure heroes V is installed and patched with the 3.01 patch.
2. Instlall NCF addon for Heroes V: Tribes of the East 3.1 by extracting it and put the files as follows:
- NCF__Core.pak in \data.
- H5_MapEditor.NCF in \bin.
- H5_Game.NCF in \bin.
3. Install creatures from NCF custom creatures Mega Pack (or from other place). Extract the package and:
- NCF_MegaPack.pak put in \data;
- NCFMegaPackInstaller.exe install it and point to Heroes V game folder.
So far so good. The game is ready but you need to make the map.
4. Make a map of your choice. It is going to be saved in Maps folder.
5. Open H5_MapEditor.NCF and use it to place NCF creatures on a selected map or if you have Mapmixer use it to mix the map creatures with NCF. In "creatures" tab select Swap and NCF and leave the rest as is.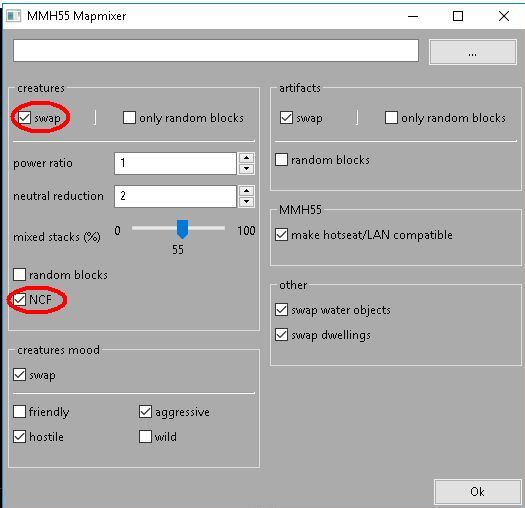 The mixer modifies the map and makes a backup of the original map.

6. Use H5_Game.NCF to launch the game.