There are numerous requests on how to create a team map minus the issues so here is a short tutorial on the steps to create such map.
---
1. Choose a map or create one with ARMG without activating the teams option.
2. The map has a .h5m extention but is actually e .ZIP archive. Extract the contents using an archiver program.
3. Browse /Maps/RMG/, find and open map.xdb
Note: the folder names inside Maps may differ but the files at the end always have the same names.
4. In map.xdb find and change the following row "false" to "true". This change activates the team feature for the map.

5. Find all entries that say "0". They are inside the section. There is one entry for each player on the map and the number is the ID of the team this player is part of.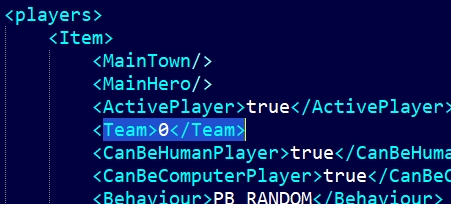 6. Some examples on how to configure it:
If the map has 4 players and the end result should be 2 teams with 2 players each, make two of the entries 0 and the other two 1
If the map has 5 players and the end result should be 3 teams with 2, 2 and 1 players each, make two of the entries 0,the other two 1 and the last one 2.
Each of the players has specific starting location so if the team players are not distributed properly just swap the team numbers of two or more players to find the perfect fit.
Enjoy!
Regards,
The MMH55 Team