Starting from scratch with 3DVIA Studio.
In the search for the right tools to make a game? Are you are gamer like me, with a passion for games but not at all familiar with programming? Welcome to 3DVIA! Where you will find tons of free tools including a 3D modelers and a 3D games engine called 3DVIA Studio.
3DVIA Studio allows you to build interactive 3D quickly by using Building Blocks: encapsulated segments of programming code that can be connected like legos to each other in a visual interface.
In the following Tutorials we take you from a blank screen in 3DVIA Studio, to a fully playable web game that can be embedded on your own website!
That's right: 3 Tutorials = published webgame
Cost=
$ 0.00
So without further blabbering here we go. Video's are currently hosted on Vimeo but I will try to add them soon to Moddb.
Tutorial 1
From Start to Publish:
3DVIA Studio Webinar: From Start to Publish from 3DVIA on Vimeo.
Tutorial 2
The Webgame: Skeeball!

Tutoria 3
Finishing Touches.
Webinar - Finishing Touches: Hands on with 3DVIA Studio from 3DVIA on Vimeo.
Please visit our forums or post here if you have any questions. Also let us know how we did :) and what other tutorials we can create for you.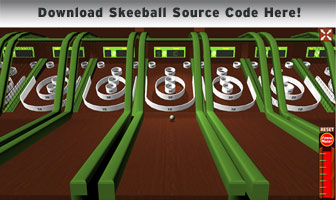 Cya online,
Juan