Hey everyone! We've got about 1.5 weeks to go in our Kickstarter campaign, and we're nearly 90% funded. If you're interested in dark tactical RPGs, we would appreciate you checking it out!
Today I would like to share my workflow for animating every character in the game. It's not super in-depth, but I hope it will still be helpful to some of you who are interested in pixel art or animation.

Rough Sketch: The first part of my workflow is to just do a really rough sketch of the animation that I have in mind. I begin first by doing 3 key-frames for the starting position, anticipation and follow-through. Once I have the key-frames sketched out I then duplicate the layers, make small changes to each and I end up with a very rough version containing some in-between frames. If I'm happy with how everything looks I then move on to refining the shape of the key-frames.

Key-frame Shape: This is probably the most important step. If your silhouette doesn't read well the whole animation is going to suffer. I like to take my time here and really make sure I get the shape of each body part correct. If I'm struggling with something, I find it helpful to stand in front of a mirror and recreate the pose that I'm going for. For this animation, I actually ended up recording a video of myself that I referenced on occasion.

Detail: Once the shape is refined, the detail step is a lot easier to handle, though it still takes the longest amount of time! I begin by first separating out each body part onto its own layer, and doing the same for each piece of gear that I add. The gear is done in the same fashion as the Shape step, I start with a color that stands out for each piece and make sure the silhouette reads well before I actually begin to detail onto it. Using references here is again helpful for making sure the detail on the muscles is more or less correct.

In-Between Frames: Adding in-between frames really smooths out the animation and adds a lot of life to it. It's something that I was always afraid of doing because it seemed like it would take a lot of time, but in actuality it only took about 2 hours for the above example(the entire process took 12h). For this step, I do my best to recreate the in-betweens that I roughed out in the sketch step. You don't need to have a ton of frames here to trick your mind into seeing a fluid motion. The mantra to follow is "ease in, ease out" which basically means you want to add frames that are easing in, and then easing out of your 3 keyframes. Some of the in-betweens might end up looking a little silly on their own, but as long as it looks good in motion it doesn't really matter!
I also put together another workflow image of a Necromancer boss I animated a couple months ago. Fortunately I still had some of the older files laying around and was able to present it this way! :)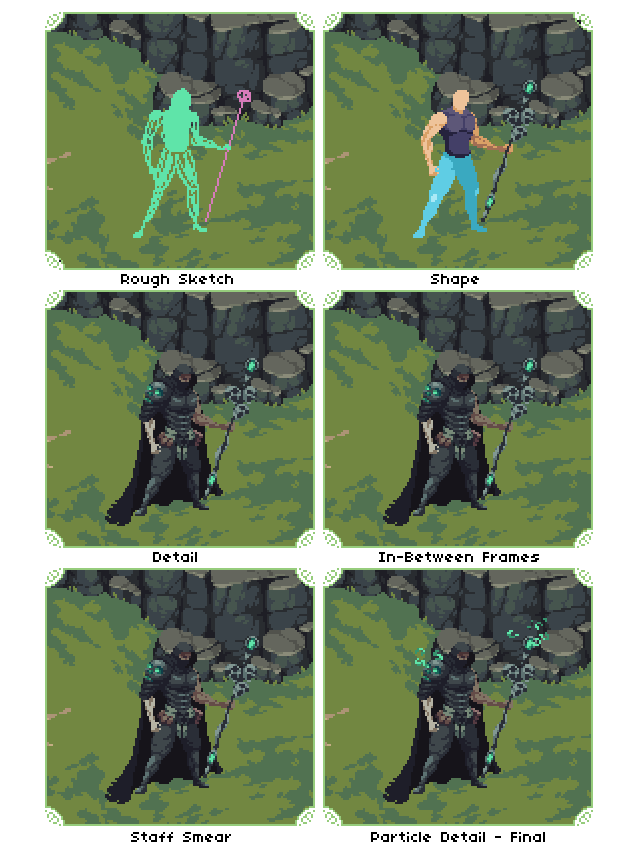 I also have two full timelapses for those who would like to see the process in more detail:
Thanks for reading! I hope some of you found it helpful and I would of course be happy to answer any questions you may have about pixel art or The Iron Oath. Be sure to check us out on Kickstarter!