The ZP Development team has been hard at work for the past few months, working on a major milestone in ZPS development. This update will include several new maps, new features, and a new game mode.
But first, I want to talk about a new competition that we are hosting.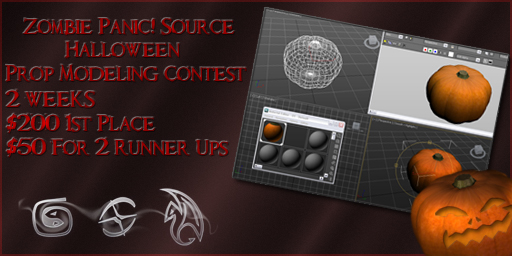 That's right. In honor of Halloween and Zombie Panic's (HL1 Mod) 5 year anniversary, we will be hosting a prop modeling contest! The duration of this contest will be 2 weeks starting now and ending *UPDATED* October 21st of this year, and the rules can be found -here-
Now, with that out of the way, we can talk about ZPS 2.0, which we hope to release on October 31, 2009! That's right, we're aiming for a Halloween release! Included is a new game mode, which is currently codenamed as "ZPA". As we get closer to release, we will detail more about this game mode. But we aim to release ZPA with *two* new maps, as well as a slew of features and enhancements that are ZPA-exclusive.
ZPS 2.0 will include:
zpo_shreddingfield
That's not all though. We've got a list of major and minor features, which you will see us post as we get closer to release. Visit Zombiepanic.org to view the changelog as we reveal more and more features and content you'll be seeing in ZPS v2.0
-ZP Development Team