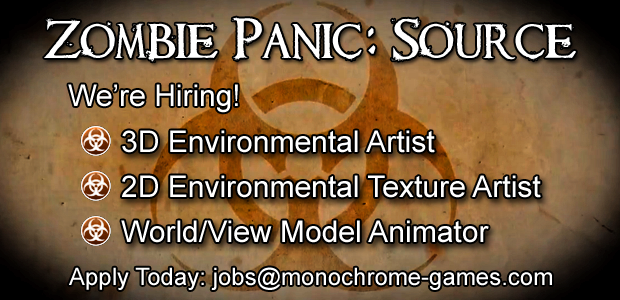 The Zombie Panic team is looking for fresh blood to help us recreate and improve the overall quality of the Award winning HL2 Modification. We're determined to keep the mod thriving and reward our fans for their support all these years. To do this we need to beef up the existing team once again by filling the following positions:
3D Environmental Artist
Source 2007 experience preferred
Strong 3DS Max experience preferred
Maya acceptable if experienced with compiling for Source 2007
2D Environmental Texture Artist
Source 2007 experience preferred
Strong Photoshop 7+ experience a must
World/View Model Animator
Realistic biped animations
View model animations
iPi experience preferred
Send your portfolio or application to jobs@monochrome-games.com
---
Never heard of Zombie Panic? Check out our trailer!