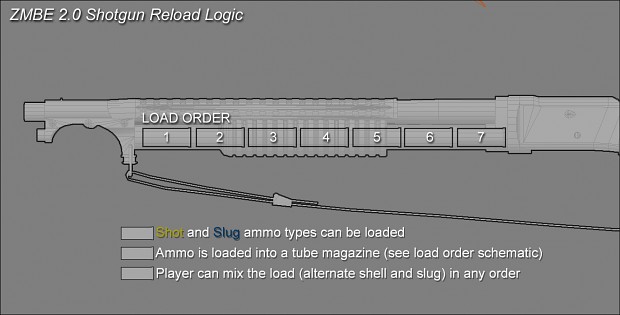 ZMBE 2.0 Shotgun features
Overview
In this news piece I would like to present you a feature that you would normally only find in obscure turn-based russian-made turnbased tactical games. Following the idea of giving the player as much control over weapon interaction as possible, new shotgun specific features are listed. Please note that previously announced features like ironsighting, gun jamming, ammo checking, magazine checking and manual pumping all apply to this shotgun too.
Basic reload procedure
Each press of the two different reload buttons will load either a 'shotshell' or a 'slug' into the shotgun.
Tube magazine
Each loaded shell will push the previously loaded shell further down the tube magazine. Therefore the shell that was loaded last will be the first in the chamber.
Mix and match
Players can choose to mix the load as they want to prepare for any situation that might arise. Since reloading is quite slower than in the average shooter, having the right type of ammo loaded when facing a specific type of zombie will be very important (or having the gun loaded at all). And yes, the ammo loaded will have a different effect on the different zombies players will encounter.
Also an observant Zombie master might even catch players with their pants down if they advertise their current load over VOIP and sv_alltalk is on.
Shot shell
The classic shotgun ammo, fires a cone of small steel shot with considerable spread. It obvious disadvantage is the loss of effectivity over distance.
Slug
Solid Steel projectiles, very effective against harder materials the zombies might be protected with. It also has a much stronger kick which will throw off the aim after the shot is fired. Re-adjusting aim is going to affect follow up shots much more than firing shot shells.
As always feel free to voice your feedback here and in our forums:
Zmbe.theicecave.net