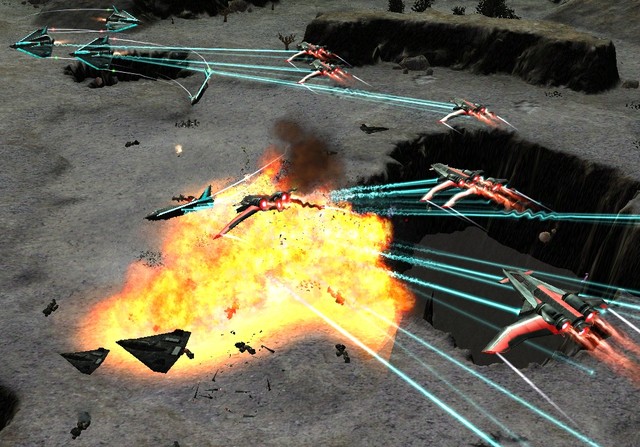 Many persistent bugs have been fixed in this version. Minor balance changes include a small nerf to the Bandit.
Interface
Fixed shift queuing with terraform
Fixed latency in right clicking on a factory queue in the build menu
Minimap hides on entering overhead view (default key tab)
Mobile AA units draw range rings. AA now draws AOE and spread in the same way as ground units.
Added indicator for available facplop, modified GFX to indicate instant nature
New information display panel for Chicken mode
Fixed geothermals and static jammer build icons
Balance
Increased raider LOS to improve their defence avoiding ability
Increased burrower (Tick, Roach, Flea) decloak range to match normal decloak range
Increased d-gun DPS and AOE
Decreased damage and increased reload of Adv Recon Commander slow grenade.
Decreased Venom EMP damage 1000 -> 800
Sumo jump has impulse as it was always suppose to (it didn't because of an engine limitation)
Dominatrix (formerly Dreamweaver) can control infinite enemies but must recharge for 5 seconds between capture, capture speed increased slightly.
Increased Merl velocity and damage
Increased Ravager and Scorcher maneuverability
Glaive damage 11 -> 11.5 and decreased autoheal timer to 5s.
Increased Bandit cost 75 -> 80. Decreased range 250 -> 240 and increased autoheal timer to 5s.
Battle Commander main gun damage increased
Increased Stiletto health and AOE.
Increased mobile cloaker cost 420 -> 600. Decreased cloak range 550 -> 440
AI
Fixed singleplayer AI bugs that caused them to occasionally handle battle units poorly.
Improved some AI build ratios and commander selections
Improved entities for unit AI
Graphics
Fixed cloaking effect invisibility bug
Fixed initial slowdown due to comm gate effect
Fixed Missile Turret and Windmill ground shadow.
New Vamp and Firestorm models.
Slightly more visible shields.
Improved some static AA projectiles
Fix Ghosts of enemy buildsites sometimes not drawing and fixed vertical position of drawn model.
Bugfixes
Fixed some Starlight aiming bugs
Fixes to terraform cost and pyramid creation
Fixed Puppies not spawning when impacting the ground
Fixed Dante weapon script, it now fires missiles correctly
Sound
Added Radar Tower reply sound
Fixed some units that were missing reply sounds
Fixed chicken artillery impact sound clipping.
Chicken
Custom difficulty for Chicken mode
Chicken Queen has less health
Increased chicken tech regression from burrow kills
Smaller Dodo waves