"What I say today everybody will say tomorrow, though they will not remember who put it into their heads. Indeed they will be right for I never remember who puts things into my head : it is the Zeitgeist." – George Bernhard Shaw
Putting things into your heads is the sole purpose of our daily work, be it screenshots, music samples, synopses or just images illustrating the progress we make with the development of Zeitgeist.
We recognized, though, that the very conservative design of our MODDB-page needed some attention, so we decided to brush it up a bit. We hope you like the changes – as always, any comments or suggestions are welcome.
In other news, the team developing Zeitgeist has got a new website which you can check out here.
Please keep any questions, discussion or debate around it out of our ModDB-pages – this is what our Steam group and forums have been established for.
It has been brought to our attention that our maintenance and presence in both the group and the forums was miserable at best, so we promise to pay much more attention to them – effective immediately.
That's it for the technical things - now for a more cheerful matter: please welcome Pascal, Peter, Bastian and Felix, who joined our team functioning as Programmers, 3d Artist and Character Modeler.
Felix' first project will soon be on display in our new gallery, featuring the reputed nobleman and politician Sir Rodney.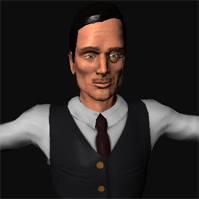 Autumn is always a time of high productivity for us, so you can expect an update following this one in a matter of weeks, displaying the first In-Game-Footage of several Zeitgeist gameplay features.
So long – enjoy the rest of your weekend!
The Zeitgeist Dev. Team