Hello, Commander...
Before we are going to the point, we thanked to everyone that support this mod! For someone who aren't willing to miss updates from our mod, you do better start to track our mod. In this moment, we are announcing that our mod's another Beta version is now released here!
Lots of changes and enhancement in this release. The major and significant changes are:
- More stable, more patched sections!
- You can now go online to play this mod with friends, thanks to CnCNet for this!
- You can find and use Stolen Techs to win the game easily!
- Still just like the previous release, 3 Allied subfactions and 3 Soviet subfactions...
- But the good news is, you can play a prologue campaign of New War conflict as Yuri's faction! Operation: Limit Break is waiting you...
You can see Pre-0.43 screenshots in Images section. We are going to showcase the Stolen Tech units that you can obtain in the game.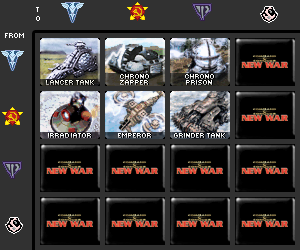 A little ability spoiler for these units:
1. Lancer Tanks can decrease enemy armor, and use Chrono weapon as a finisher.
2. Chrono Zappers can travel anywhere, and strike them with Teslas.
3. Chrono Prisons can abduct enemy and brainwashing them.
4. Irradiator will irradiate your enemies.
5. Emperor Airship is the most powerful heavy air unit that you will ever had (in firepower and attack range).
6. Grinder Tanks can throw Stun Grenades and grinding crush, and can obtain Bounties by killing enemy with this units.
Another random screenshot of the mod when doing an Online Match from Pre-0.43 release!
Here are the subfactions in this mod with new flags thanks to SeriousToni !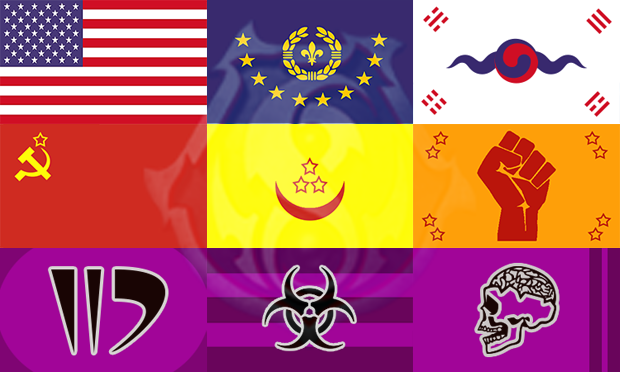 We have revised our country flags and country names.
From top left to top right: United States, Europe Federation, Eastern Alliance
From middle left to middle right: Union of Soviet Socialist Republics, Global Liberation, Eastern Communist
From bottom left to bottom right: Prime Legacy, Warfare Arsenal, Psychic League
Unfortunately, due to Yuri and Black Force's arsenal are incomplete, we removed them from the country selection list. But about Yuri, you can try the demo at the Prologue Campaign, Operation: Limit Break.
Now, we are unofficially integrated with CnCNet 5 and other multiplayer provider like Tunggle and YuriNET. Special thanks to CnCNet team and Rampastring for this!
That is our mod, Yuri's Revenge: New War or can be called Command and Conquer: New War. It is using ARES, a DLL that enhance and bugfix the original game made by ARES Team.
Special thanks for Westwood Studios for this awesome game.
You can download the mod here. Soundtracks are separated and can be downloaded here. You can see the credit list here. The instruction is in the mod's download note. Make sure you followed the instructions and we will wait for your reviews and co-operation!
There is something that you should know that we are looking for someone wanted to work with us for the mod. We are still open to streamers, mappers, 3D modeller, voice actor, and much more. A single nor double contributions are welcome. For more information write an e-mail to reaperz.death2@gmail.com . Be one with us...