Not a lot of updates lately on the development of Xmas, but that's going to chance this week. Got a week off college, and im gonna use it fully to put 1.0 out the door!
For now, here's a work in progress shot of the new Glock 17 skin: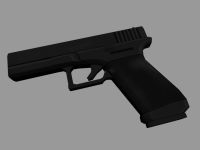 Keep in mind this is just the start.
The rest of the weaponry is also getting through "quality control" like the Panther 5000 Super Soaker for the Gauss is also getting a new skin, and the Super Soaker model for the egon is still in the planning stages.
Btw, the spot for a concept artist has yet to be filled.
If you're talented and got a few free hours on your hands, i want you! *queue pic of Uncle Sam*.
Stay tuned for more screenshots next week!
-BP