August Update:
X32I has been in a rather slow pace for the past few months, due to many problems within my life, and for other members, thus not much has been done. However things are starting to get back on track now, and production has resumed.
In this update we have a few pieces of work that have been produced lately, and some music from the CE2 version of the project.

In-Engine Hanger Bay shot:
Concept, created, and textured by Phil Booth, almost a one man army it seems. As you can see this WIP hanger bay is coming along very nicely, and will be the area where you customise your player ship with new parts you acquire along your journey, and interact with a few of the NPC's working within the hanger bay it self.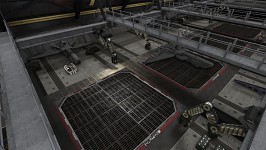 Player Pilot suit:
Concept art created by Paul Tallon, this shows you the design of the player suit, which is designed to withstand the harshness of space, in-case the cockpit was to become compromised.

X32I - Music Tracks:
3 tracks produced by Gareth Coker which where used in promotional videos, of the CE2 version of X32I.