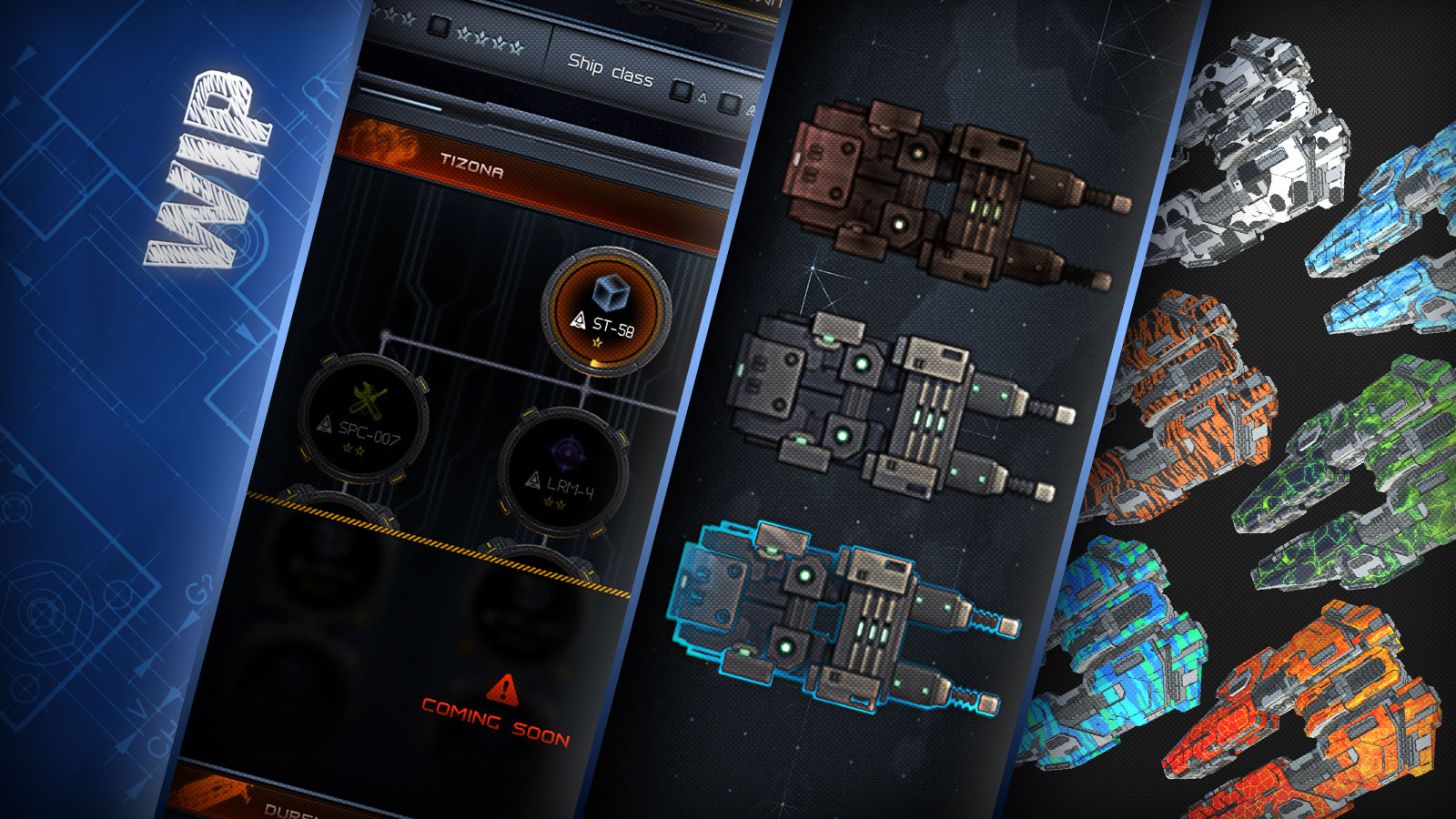 Greetings, Commanders!
This Friday we continue telling you about global changes for the MMO mode, which will eventually bring you a full persistent MMO universe with all the curious MMO elements and the unique style of our RTS battles.
Ship Model Progression
---
Everybody knows that getting levels is a fun and engaging thing, and although we don't plan to restrict your ship choice with a huge ship progression trees, making your favourite Muramasa dreadnought an option on the mythical level 100, giving you access to all the faction ship recipes from the start would be not that interesting and intriguing.
Now, only basic ship modification will be available by default, and each ship is going to have additional progression: After getting Basic (Tech level 1) version of each ship model, you will have to level it up to get access to recipes of other modifications. Once you level up Basic tech level 1 version of the ship, you get access to three Tech 2 modifications - it can be Spec Ops, Long Range and Assault modification, or any other combination of possible modifications. After that, you will start leveling up each line of modifications separately: play Spec Ops Tizonas to get access to the Tech 3 Spec Ops modification, or use Assault Tizona to make a recipe of Tech 3 Tizona available.
You can open access to all modifications here. Modifications with higher tech level can differ in slots and characteristics.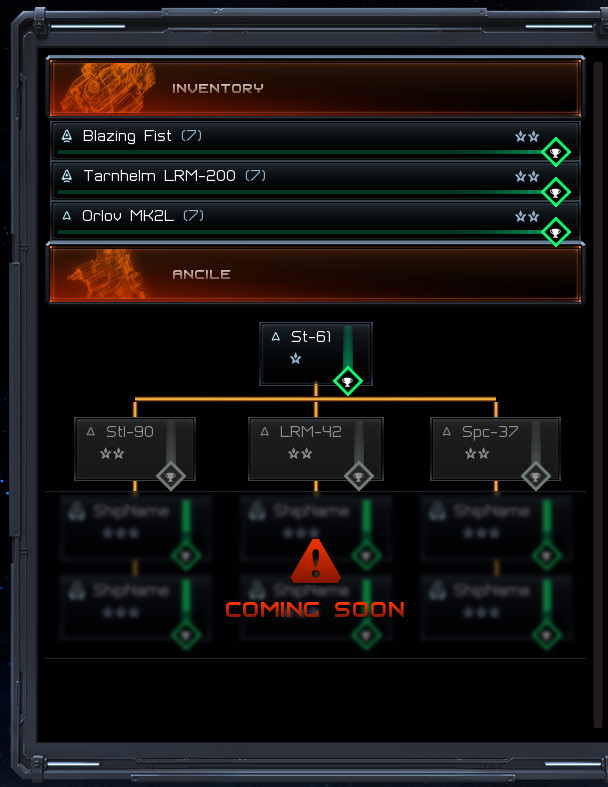 WIP Shot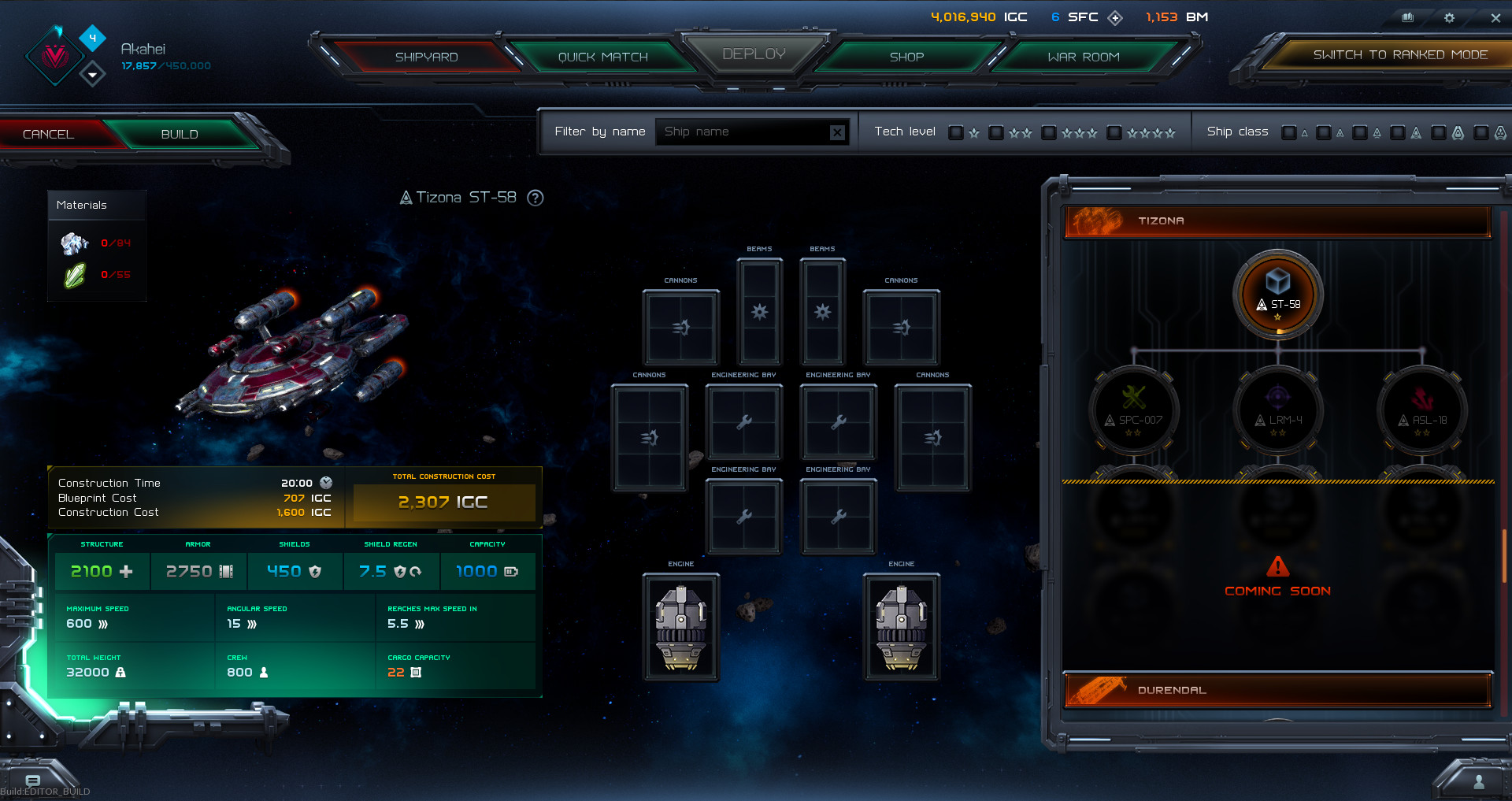 As you can see from this screenshot, the total number of modifications for each ship will grow from 4 to ten, giving you both more variety and a bit of this nice personal touch to all these ships.
Equipment quality
---
Along with balancing all the equipment to give you better battle experience, we, as it was mentioned in a previous article, work on our MMO mode, adding all the necessary stuff, extending content and improving it. Therefore, while we are adding more ways to get new equipment, more equipment is needed to reproduce that great loot-hunting feeling, when you get this awesome legendary weapon after all the efforts you put to create it - it's always worth it, right? ;) So, not only for this reason but also to make crafting feature and boss fights more valuable for you, all the equipment in MMO mode now has three grades: Defective, Normal and Improved.
All three grades have a slight difference in their characteristics and can be acquired in different ways:
Normal equipment is a basic variation you previously could find in Starfall Tactics. It can be bought or gained as a quest reward.
Improved is a high-quality piece of equipment which can only be crafted or acquired as a super rare loot from bosses. That's where you are going to need crafting, resources and other stuff for constructing great things.
Defective is an equipment which was used many times before, maybe even damaged or simply worn-out - it has a lower stats than normal equipment and can be frequently found as a loot from NPC fleets.
Defective and Normal equipment can be upgraded to Normal and Improved equipment accordingly on special stations you can find while traveling across the confines of the known Galaxy - see more details on upgrades in the next article ;)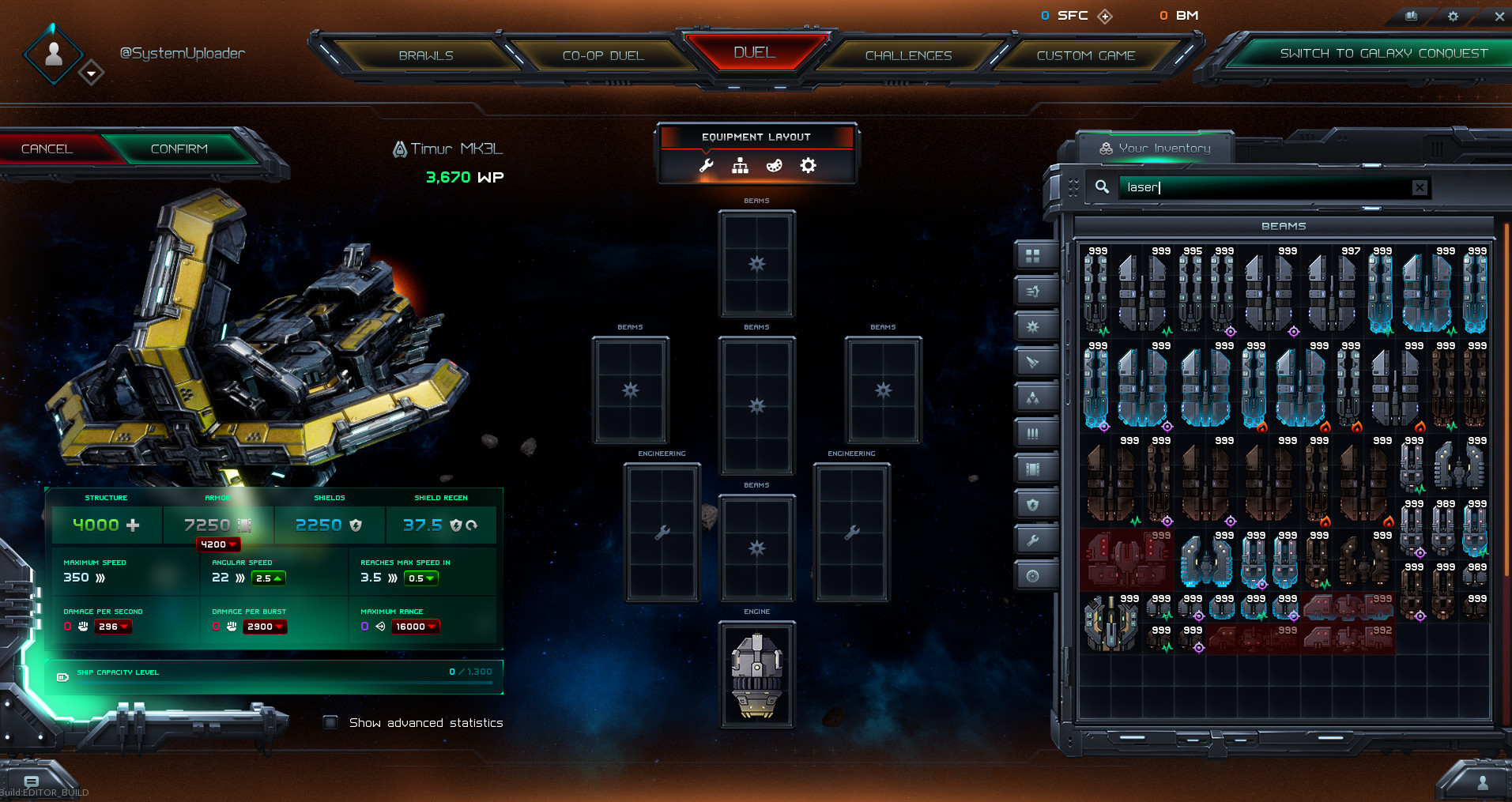 This way you get new goals and rewards for your long and exciting journey through space MMO jungles - so get ready to craft your first Improved Long Range Laser!
Note: Ranked mode will continue using only normal weapons.
Ship patterns
---
Have you tried yet vanity customization in Starfall Tactics? Maybe painted your ships in crazy pink colors? Well, if you haven't done that, then soon you will have a reason to check it out: we are starting to add all the visual customization features, which also include ship skins.
First of all, we will add basic patterns for you ships - just look at these nice regents: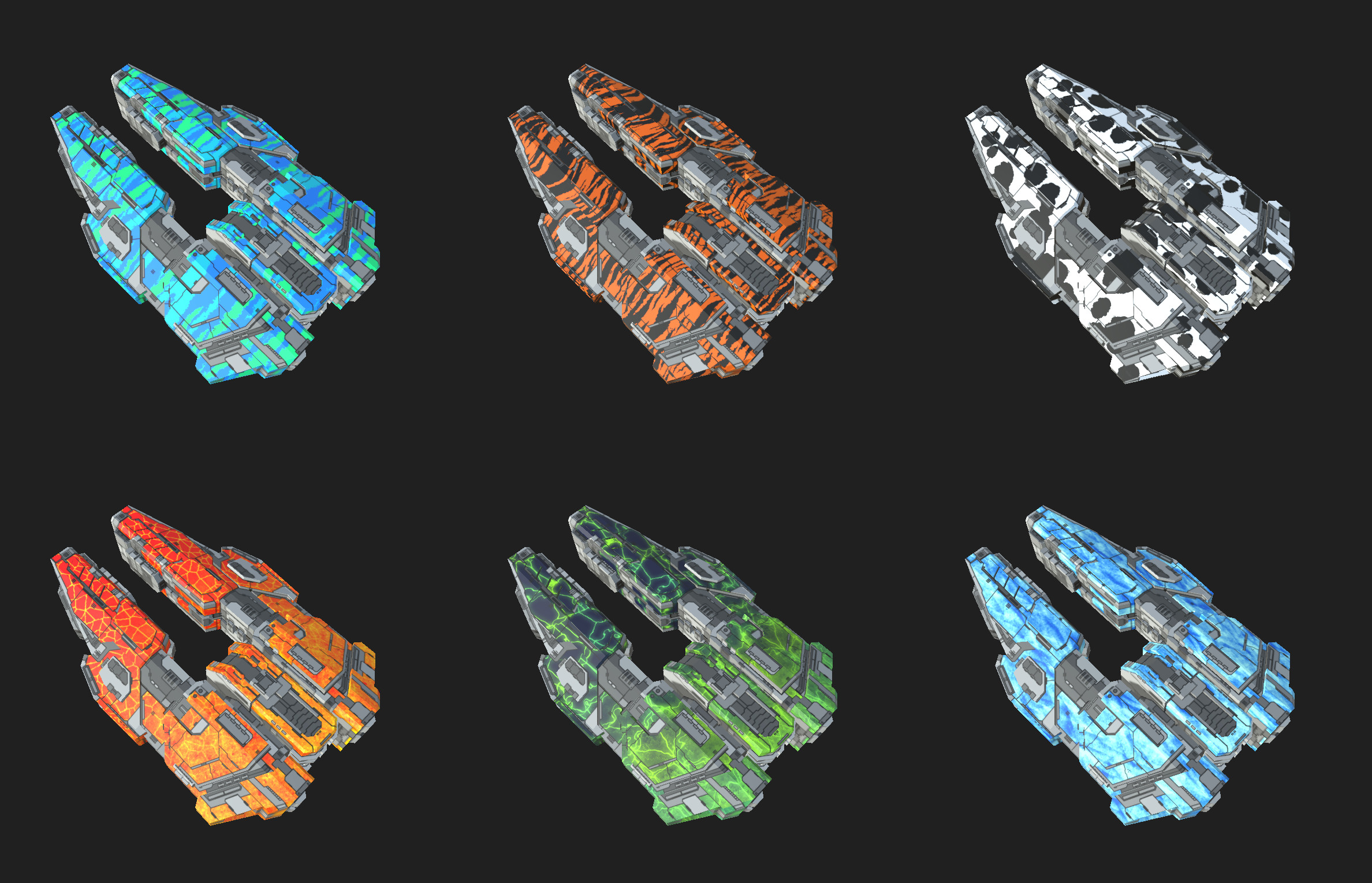 These patterns in the picture above are now in progress. Along with using base colors, you'll be able to choose custom colors for each of them, making a zebra skin instead of the tiger or just anything you find suitable for your ships. Of course, further we will add more patterns, epic skins and decals to make sure you can customize ships in all the crazy ways. ;)
Expect more information about MMO mode updates and improvements in next articles - see you next week!