Hi everyone !
After a month of progress and not much news from us, the time has come to show you the work completed by the artists of Tactical Collective for the French Foreign Legion Mod. We hope you'll enjoy !
French Character by Didish
You should have seen in OWI's Modding Wrench that Didish started to scan his friend to make a pretty French face. At the same time, he is working hard on the entire character, equipment and anatomy.
Douentza Map by Legion
You already know it because we quite often show the progress. But due to its large size (8km x 8km) and the level of detail in each part of the map, Legion spends a lot of time working on it and extending the playable zone with immersive landscapes.
France Map by XanderDal
With the Foreign Legion, we want to make you visit some part of France. That is what XanderDal is trying to do by making a Map taking place in the forest of Northern France. The first screenshots are already wonderful and we are very excited to fight for French territory ! The forests will be littered with trenches, military outposts and farms. Think of it as a hastily built Maginot line!
HK417 by Bonfunk
You've already seen a HK, but unfortuantely its production was stopped, but now we have a new master to take the reigns. Bonfunk came back stronger than ever and restarted the entire model with a new software, finally offering us what will surely be a new masterpiece. This rifle will be assigned to the Marksman kit, and we can't wait to fire the first shot with the Scrome J8 optic (made by Bonfunk too). You can catch Bonfunks interview at the end.
FAMAS F1 Infantry Version by Drakoliche
Drakoliche created the FAMAS G2 a long time ago, and we used it for animation and sound tests. But what you can see here, is the version handled by the French Legionnaires, with a picatinny rail ready to get some nice optics. The render is beautiful and we will integrate it in game as soon as possible ! PS: No doubt that this gun will shoot some famous french rifle grenades ;)
Mortar Props by Baby_James
Bonfunk modelled the 120MM Mortar, and Baby_James gave himself the task to add a nice environment for the mortar. He created the shells and transport crates to put around the mortar and make it as real as possible.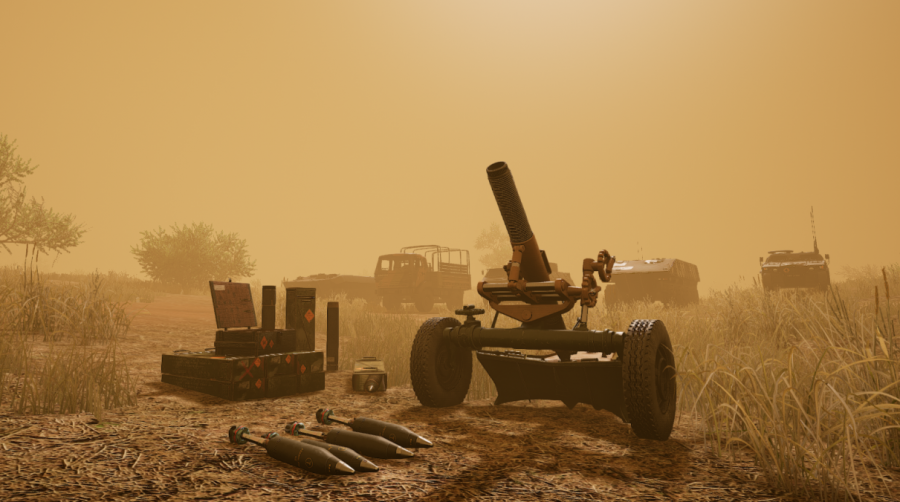 Thank you for reading !

Find Out an interview of our 3D Artist Bonfunk on our website, at the end of the page: Mod.squadfrance.fr

Take a look on our other WIP: Mod.squadfrance.fr