Hey watchers,
Gonna start this time with a quick progress report
---
Progress:
- The wind grenade has been coded and works, "explosion" effects are not final nor are sounds.
- Outpost received several updates and is in it's final stages
- FragOut.fgd has been made and works, it includes the first health pickup ... the duck! read more about it down below :)
- Phanrack joined the crew of devs as a 2d artist, he basically does decals, textures, skins, hud icons and more!
- Also Eccentric and Soulfather(from Kreedz mod) agreed to map for FragOut, Eccentric doesn't want to be part of the dev list until he actually made a map and I'm not sure wheter Soulfather just wants to contribute one map or fully join the team, but he's already been with us on one test yesterday, talking our ears off :D
- Score and frags are now seperate, score is awarded to people that survived a round, score is awarded based on lives left and amount of frags during that round, so 2 lives left and 5 kills means 7 points, but cowering in a corner having 5 lives left but 0 kills means the guy who went out fragging will beat you!
However there is still not a way to decide a winner so changes may be made when needed.
- The duck, pig and cow models have been pretty much finished, read more about them below!
- We now have a website which is hosted by Half-Lifecreations this also got us access to SVN and FTP hurray!!! You can check out the FragOut website by clicking here.
Thanks HLC! The webmaster of our site is Nauz, so if you have any suggestions for it then send him a PM or email :)
- First custom kill icon was added, PhanracK will be making more so on release we will have some nice custom kill icons!
---
Animals:
That's right.. Animals! They will form your primary source of health in FragOut, functioning like old school pickups but with a twist... they're very much alive and will have different animations that the mapper will be able to choose(at least that's the plan :D)
The first 3 animals are done they are:
- The duck: Delicious and awesome, but small healing a good 25 hp dude!
- The pig: Fat and ... fat? Being bigger and fatter then the duck he will heal 50 hp
- The cow: Huge beast compared to the duck and the cow, this will surely heal all of your hp, don't expect too many of these around though... MOOOO
Also here's a nice preview of all 3 in one picture: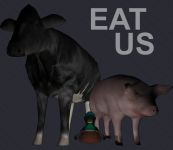 ---
Decal pack #2 and Rebel/Combine skin preview:
Phanrack made a second smaller pack of decals for the mappers to use, containing some characters you may very well know.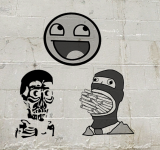 He's also working on new rebel and combine skins, here's a small preview: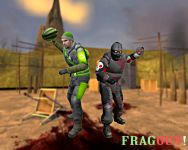 ---
Sailboat Grenade video footage:
Last but not least, a video containing footage of the sailboat grenade animations and showing off what it can really do :D




That's all for now! Keep watching:)