A few people have asked me how scary The Apocalypse is going to be.
Obviously, how scary a game is depends entirely on the player playing. One person will play Amnesia: The Dark Descent and find it terrifying (that's the camp I'm in), but another person will complete the whole game without any rise in heartrate.
What I can talk about more reliably are the aims I have for the mod.
In previous mods, I've generally focused on:
Interesting environments / worlds to explore

Intriguing stories

Intense combat
Whether I've ever succeeded in these goals I leave to players to decide.
In Apocalypse, I wanted to depart from a dependency on combat and replace it with survival horror. I'm a big fan of narrative "walking simulators" like Gone Home and Tacoma, admiring how they allow players to dig deep into their worlds. However, I also think a game benefits from threat. I didn't want to make a game where players walked around, looking about casually without finding the world threatening in any way – playing such games sometimes has the feeling of walking around a museum.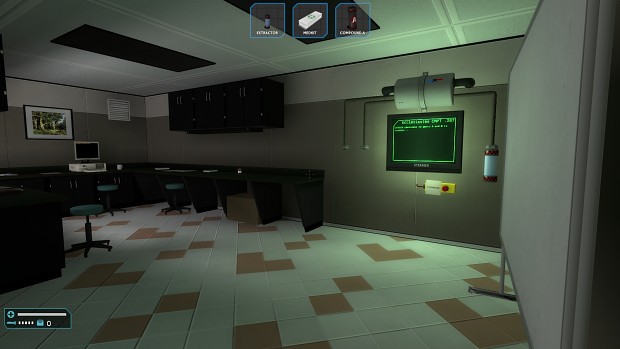 In Apocalypse, you play a person exploring a ship whose crew, for reasons you can discover in game by digging through logs, have morphed into something no longer human. You need to complete objectives, gathering the equipment you need, while carefully keeping your distance from these creatures.
These dangerous enemies add the much needed threat, but in order to create a memorable experience, I'm also paying particular attention to creating a tense, ominous atmosphere. This is achieved by making spaces claustrophobic, ensuring players are never quite sure when they're safe. Levels will make effective use of lighting and the atmosphere is further supported by an excellent soundtrack.
It's a departure from the kinds of mods I've made in the past and, as such, it's a bit of a gamble. My hope is that it allows me to create an atmosphere of dread and focus on the story, which remains one of my primary focuses. Time will tell.
Also, as the title suggests, we are looking for voice actors! We have several roles open, and we are looking for applicants of both sexes, so if you would like to try your hand (er, voice) at acting, please get in touch. Details can be found at the page below: Moddb.com