Dev Diary #1
08/04/2015
The short gameplay video
The origins...
---
In 2008, I was working with some French illustrators on a new comic book: Cyrano and the King of the World. A story about an alternative and cartoonish 17th century filled with duelists, sorcery & flying ships. We were all exited about the project but, at that time, I had to focus on other things and we all lost our window of opportunity.
---
---
A few years after, as I was digging through piles of documents, here they were... a dozen pages of Cyrano and I knew immediately that it should be a game. An adventure with a good scenario but also a game that offers an open world where you have the choice to roam, steal, quest and explore, without necessarily following the main quest with many activities, such as, exploration of space, gathering resources, crafting, commerce, and combat.
---
---
The development
So I started the layout with UNITY. I used to work in the video game industry in the 90's and the early 2000s as a game designer but this time, it was different, I was going to be alone! After two years and with the help of UNITY forums and the Asset Store, I was able to finish the shape of how the game would look like.
---
---
Cyrano and the Rusty Planet is a hybrid: mainly a point-and-click adventure but also an isometric RPG and a space trading and exploration game with LGBT-friendly content for PC - Mac - Linux
A detailed open-world, a complex story line, some unforgettable characters and a flamboyant gameplay.
---
---
What needs to be done?
Although we already have a lot of indoor environments ready, there is still tons of work:
* The creation of new 3D models and characters

* The voice over and lip sync

* The design of 9 planets (+moons & asteroids).
---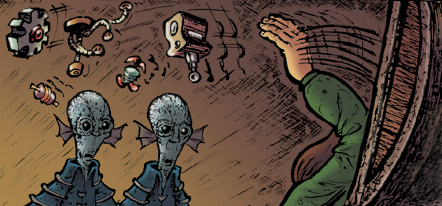 Work in Progress!
---
That's it for today! Hope you enjoyed the update..
THANK YOU for your attention and support!
Alex @ Abraxas Adventure games