So, there have been a few months of peace and quiet here. Sorry about that. But fear not, progress has been happening behind the scenes, and I am happy to announce that we're on the verge of starting beta testing of the first batch of War in Heaven R2 missions. It has taken us a bit longer than we anticipated, due to Battuta, Axem and Darius going a bit mad with new mission concepts. They're ambitious, but (we hope!) not rubbish, so we'll see what our beta testers have to say about it.
That being said, there are a few goodies we can show you. First up, our promo picture of the new Narayana: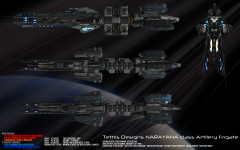 Second, here's a new piece of music, courtesy of Darius. Enjoy.
Until the next time, this is The E. Have a nice, non-exploding day.