Foreword by Dman757:
First I would like to apologize for there being no update last week. I was out of town on a family emergency and my computer died on top of that. Although you didn't miss much since many team members were celebrating the 4 of July with their families. Though one big thing did happen the same as it does every year, we celebrated our 6 Year Anniversary on July 2nd. So enjoy last weeks announcement by Coleman followed by this weeks update by Maxx.
6-Year Anniversary, by Coleman:
Wow, 6 years... 6 long years... Doesn't seem like that long ago that I started this project back in high school. There's been plenty of ups and downs during the development of this project. It seems like every year something changes, goes wrong, or are more setbacks. But this time around I feel like this project is heading in a direction that will lead to a release relatively soon (end of summer I hope), which is awesome! We have an excellent and talented team backing this project and I'm sure you will agree that the wait will have been worth it when we are ready to release.
I'd like to personally thank everyone who has helped and contributed to this project, all staff past and present. NMRiH wouldn't be here if it wasn't for you. I'd also like to thank the community for sticking with us. I know its hard to wait for something that you've anticipated for so long, but without you guys we wouldn't have a reason to continue, so thanks!
NMRiH has always been a key part of my life for over a decade. I love this project and everything that has been accomplished with it to this point. I can't wait to see what happens in the next few months and I'll be sure to share our progress along the way each week in our weekly updates. So stick around, things are moving quickly and you don't want to miss it!
Thanks again,
Coleman
Weekly Update - July 14, 2009, by Maxx
Greetings! I come bearing news from the frontlines of the zombie war! Many things to share with you my friends.
First off, I'd like to let everyone know that the legendary Chris '2d-chris' Kay of CryTek GmbH has rejoined our effort to complete NMRIH! He brings his amazing level design skills complete with custom textures to further lather our destroyed beauty that is the chaos of the zombie apocalypse. On that note of returning heroes, I'd like to also let you all know that our previously injured animator SharkDog has returned from his broken collarbone incapacitation! Not only has he returned triumphant, he also came bearing the gift of a new completed hand rig for better weapon animations so he and Chad are hard at work to make your zombie killing that much more satisfying.
On the front of programming, our skilled and cunning warrior-coder ssba has completed our brand new zombie spawning code and point-based entity system and I will tell you first hand that it works like a charm in the most horrifying way possible. It will create zombies based on spawners that a player is closest to, and the ones that no players are near are destructed to save memory and increase performance to reduce latency.
Our audio gladiators Richard 'Beckett' Douglas and Luke Hatton have officially completed all of our weapon sound effects with incredible results. I would be astounded if you guys were not pleased with the results when you finally get your hands on them ;)
We have also hired the wonderful talents of Surfa and JayL to assist in our goal of as much custom art content as possible. Surfa is a quick and reliable artist who will be cranking out detail props like a beast to fill up every area possible to make our levels look real and believable. JayL is also a reliable and high quality artist who I personally worked with at Rockstar before he moved on to greener pastures. Be on the lookout for some of their beautiful works soon!
Also, we completed our first full-on multiplayer playtest last Wednesday. The results were great and we established a lot of things that we liked, and things to improve. We have identified and resolved numerous bugs and we all had a blast being repeatedly massacred by the zombie hordes. Whoever thinks that slow shamblers are easily dispatched and a negligible threat will be in for quite the unpleasant surprise.
I would also like to share this....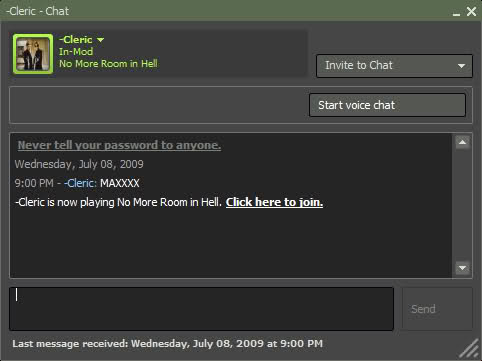 See you next week!
Here's some stuff you might be interested in!
IRC #nmrih on irc.gamesurge.net
Ventrillo Server: Chicago7.NationVoice.com Port: 3935