Hello guys!
Just wanna share you a quick info about the progress of Asymmetric Warfare MOD.
After porting so many weapons and tested them one by one, i finally choose some weapons which would perfectly fit with "Asymmetric Warfare" themes.

As a start, lets me introduce you to the famous AK-47 along with Weapon Customization and Zoom Shader script for its 3D scope.

You can check My Youtube channel or join My Discord Server for latest info about Asymmetric Warfare MOD.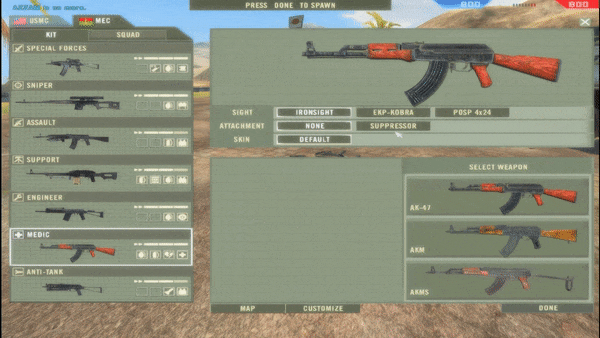 *Notes : All weapons icon outside the MEDIC Class are just a place holder
In-Game VIDEO preview:

CREDITS:
AK-47 // EKP Kobra (model & Textures) = Millenia ( Artstation.com )
PSO1 // PBS1 (model & Textures) = Stoy79 (Heffy) ( Heffysmods.blogspot.com )
Original AK47 Animation = Hyper ( Youtube.com )
Animation Port = Wei Wang
Weapon Customization script = Hjid (Alpha Project)
Zoom Shader script = Badsanta
Weapon-port//3D-scope//Texture-edit//Compile = Blackflag554

Some In-game screenshot