Hello dear community and welcome to our first news in 2018!

It has become a nice tradition for our project to use the first news of a new year to look back on what we have archived and to thank everyone for their ongoing support.
We checked the latest data and got really amazed when we saw that we served over two million downloads via our launcher so far. That means over one petabyte worth of data which equals to about 3,4 years of full hd video or around 745 million floppy disks!
The entire team behind Stargate Empire at War Pegasus Chronicles is very grateful for this and all the comments, bug reports, questions and videos you share with us. Please keep them coming as every input ensures that we're able to create the best Stargate experience possible!

So looking back...what's the story off 2017?

Of course our main focus was and is still to have the first version of ground combat released. We archived quite some important steps in that direction and have been able to share not only pictures but also the first moving images of the early stages of this aspect of our mod:

As we got very positiv feedback especially for the released wave mode maps and quite some demand for new challanges we decided to devote some time to develop another map: Attack of the Replicators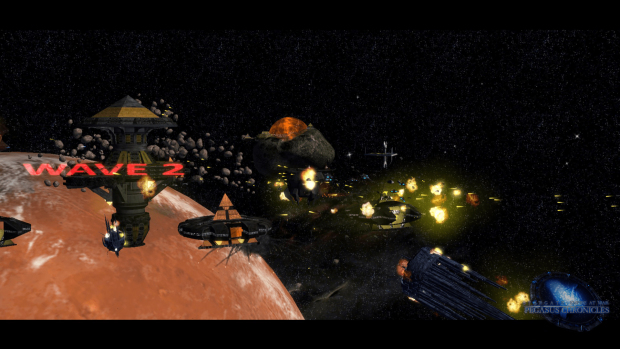 Not quite project related but still important news for every Stargate fan was of course the announcement of Stargate: Origins.

While not everyone was pleased with the results so far it's an important life sign of our beloved franchise.
However maybe the most important thing of 2017 for our project might have been the return of the multiplayer mod and the introduction of Steam Workshop by Petroglyph.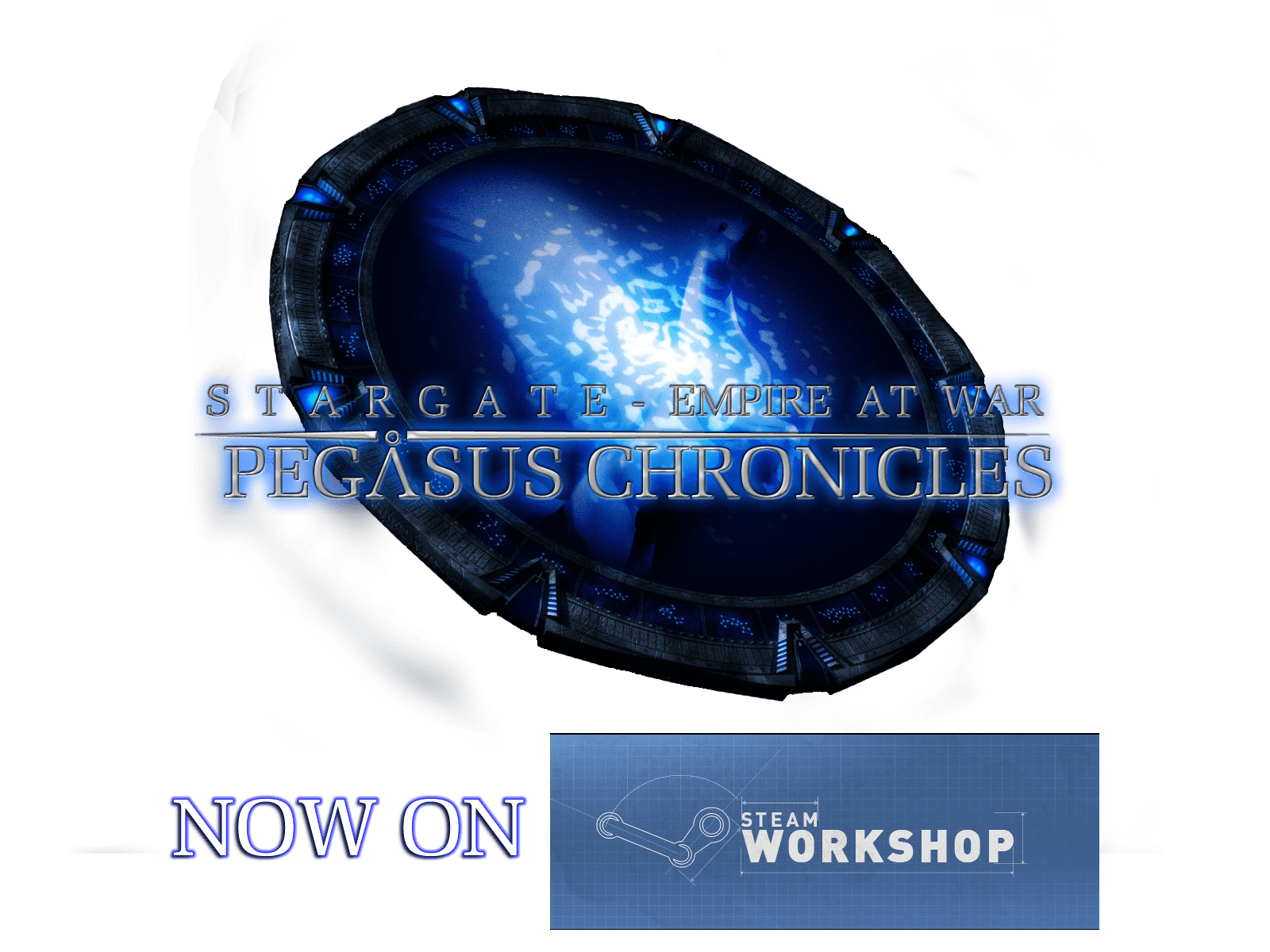 This unexpected but very pleasant suprise opened new ways to present our project and interact with our community we never even had dreamed off.

Till now both released version (stable and open beta) got over 18.000 subscribers which made the team very proud.

But enough of 2017...as the title suggest we start 2018 off with one hell of a bug fix!

In total we got six A4 pages of changes for you...easily the biggest change log every published for a patch from our side.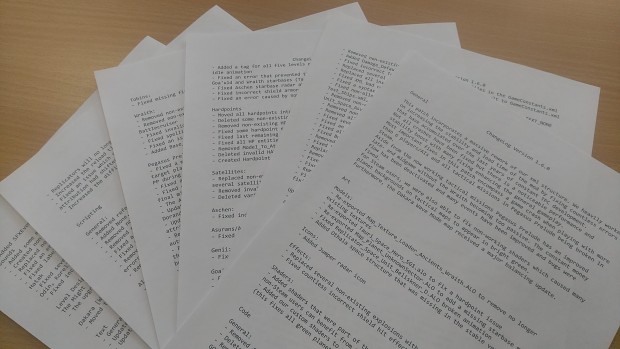 Before we cover the main aspects of the patch we would like to thank Pox of Thrawn's Revenge as he helped us to see our issues from another angle!

The patch incorporates a massive rework of our xml structure. We heavily worked on increasing the stability and load time of the mod by fixing countless errors that have accumulated over the last years of constant TPC development.
Not all crashes have been fixed but there is a noticeable performance and stability boost with many fixing enhancing the general gameplay.
Most important fixes in this patch encompass a game crash when playing with more than 6 players/AIs and all tactical missions in Pegasus Prelude being broken in Steam.
Aside from the now working tactical missions Pegasus Prelude has an improved late- and midgame without the Wraith becoming too passive. The constant money flow has been deactivated and many events have been improved and bugs were fixed.
For Steam users, we were also able to fix non-working shaders which caused many planet backgrounds on tactical maps to appear in bright green.
Furthermore, the Dakara Wave Mode map received a major balancing update.

The now working tactical missions include the famous ancient convoy mission!
Our initial suspect was the .Make_Ally() script command which for unknown reasons worked in the retail but no longer with the steam version. After many trouble shooting sessions we found out that If placed in different files, Steam and retail versions of the game read the factions from maps in a different order resulting in units pre-placed on a map having a different faction attribution depending on the game version.
We fixed it by moving all factions into a single file.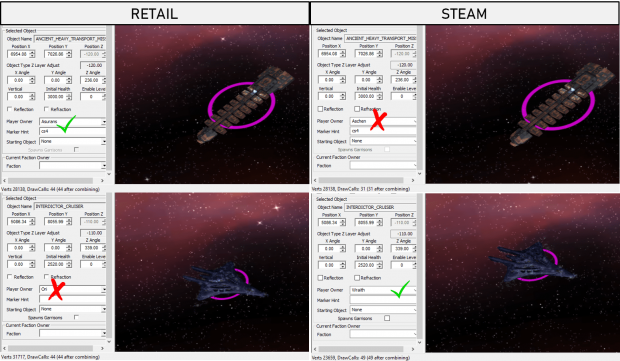 With all this fixes being done we hope to have archived a stable state of Pegasus Prelude!
It would be great to again have your feeback especially in regards of the stabiltiy of this galactic conquest. We will move the GC to the stable version with on of the next patches if we get the anticipated positive results.

You can find the full change log below:

Art

Models:
- Re-exported Map_Texture_Loader_Ancients_Wraith.ALO to remove no longer existing textures
- Re-exported Tauri_Space_Hero_SG1.alo to fix a hardpoint issue
- Re-exported Map_Planet_UnknownSector.ALO to add a missing starbase marker
- Fixed Replicator_Space_Unit_Beliskner_D.ALO broken animation
- Added Othala space structure that was missing in the stable version



Icons:
- Added Jumper radar icon


Effects:
- Replaced several non-existing explosions with a newly created explosion
- Fixed countless incorrect shield hit effects


Shaders:
- Added shaders that were part of the last official Steam patch to the mod so non-Steam users can benefit from the changes as well
- Added our custom shaders to a meg file so they will be recognized by the game (this fixes all green planet backgrounds!)


Code

General:
- Removed files listed in the GOF that don't exist
- Deleted some Star Wars units that referenced to a non-existing variant
- Removed a lot of un-needed vanilla files that were still loaded through our GOF. This resulted in further deletions and changes in the GroundUnitsStarWars.xml
- Added missing vanilla units whose absence cause script errors
- Removed non-existing entries for ShipNameTextFiles in the GameConstants.xml
- Added Damage_Default, Armor_Default, and Shield_Default to GameConstants.xml
- Fixed incorrect Traveler text ID
- Replaced several instances of the non-existing Text_ID NONE with TEXT_NONE
- Replaced all instances of LEERSTRING and -PLAIN with TEXT_NONE
- Fixed XML bad comments in in Markers.xml and Wave_Objects.xml
- Fixed a syntax error in Particles.xml (random "z")
- Fixed non-allowed characters in Props_Stargate.xml, Props_Stargate_Space.xml, Test_Ships.xml, Test_Units_Ground.xml, Unit_Space_Neutral_GC_Dummies.xml
- Removed non-existing Targeting_Priority_Set for Wave_Aurora_Star_Base_1, Unit_Space_Asurans_Aurora.xml, Unit_Space_Asurans_Puddlejumper.xml
- Removed non-existing Space_Layer 'fighter' from all fighters that had it
- Removed all damage types from the vanilla projectiles
- Fixed several non-existing armor and damage types
- Fixed an issue regarding some of our damage types not working
- Fixed all entities in which damage was set to 0
- Fixed BuildReqGroundBaseLevel for various space units
- Removed Wave_Asteroid_Void from the main menu map
- Fixed FogOfWar grid size error in the main menu
- Replaced non-existing units Goauld_Hero_Anubis_GC, Alliance_Assault_Frigate
- Removed several Corruption_X_Success_Unlock_Unit_Type rewards
- Fixed some incorrect Targeting_Priority_Sets
- Fixed some projectiles not having a XML category mask assigned to it
- Removed a ton of non-existing entities, way too numerous to list them here
- Fixed more stuff that we don't want to spend more time on writing down than on fixing it



Upgrades:
- Fixed incorrect naming for various Combat_Bonus_Ability used by upgrade objects
- Removed US_Cloaking_Generator_L1_Upgrade and US_Cloaking_Generator_L2_Upgrade from the game
- Fixed invalid values for the US_Magnetically_Sealed_Armor_*_Upgrade, US_Reinforced_Structure_*_Upgrade, and RS_Reinforced_Armor_*_Upgrade upgrade objects



Factions:
- We have reworked our faction code (order, files, number of factions, maps, ...)
- If placed in different files, Steam and retail versions of the game read the factions from units pre-placed on a map in a different order
- It is important that the ORDER of the factions does not change, otherwise faction attribution in the map editor will break
- Adding more factions as this will result in multiplayer crashes with too many players; we had to delete some factions to fix everything
- This fixes major Issue (7+ player crash) and major Issue (Tactical missions in PP broken in Steam)
- The Genii are now named "Pirates" in the code (The game didn't like the pirates removed)
- Removed some left-over references to no longer existing factions



Starbases:
- Added a tag for all five levels of the Tau'ri starbase to activate the loop idle animation
- Fixed an error that prevented the Supply_Dock_Income_Bonus being applied to Goa'uld and Wraith starbases (Tauri was working fine)
- Fixed Aschen starbase radar ability not working
- Fixed incorrect shield armor type for the Tauri level 5 starbase
- Fixed an error caused by none of our starbases having a damage value



Hardpoints:
- Moved all hardpoints into separate files
- Deleted some non-existing hardpoints
- Removed non-existing HP_E_EMITDAMAGE
- Fixed some hardpoint errors
- Fixed last remaining hardpoint errors caused by fake HPs
- Fixed all HP entities regarding damage decal and damage particle bone
- Removed Model_To_Attach entries from hardpoints that should not have them
- Deleted invalid HARD_POINT_GOAULD_STAFF from GameConstants
- Created Hardpoint_None for unit variants that should not have hardpoints



Satellites:
- Replaced non-existing armor type "Armor_Capital" with "Armor_Normal" for several satellites
- Removed invalid Targeting_Priority_Sets for various satellite hardpoints
- Deleted various un-used satellite hardpoints from the 1.3



Aschen:
- Fixed incorrect attachment bone for HP_Aschen_Corvette_Shield



Asurans/Ancients:
- Fixed incorrect affiliation of the Asuran_Laser_Satellite



Genii:
- Fixed invalid value in Fire_Cone_Width for Kolya



Goa'uld:
- Renamed duplicate entry Proj_Goauld_Station_Laser_Artillery
- Removed un-needed LURE behavior from the Anubis Glider
- Removed non-existing target bone from the Old Hatak
- Fixed invalid value in Fire_Cone_Width for Baal



Ori:
- Fixed spelling error in one of the Ori ship's behaviors


Replicators:
- Fixed incorrect death clone of the Repli Hatak



Tau'ri:
- After all these years the HB-302 can now finally fire its anti-fighter missiles
- Fixed incorrect fire bone A named MuzzleA_06 for hard point HP_BELISKNER_FL_ICS



Tobins:
- Fixed missing fire bones error for Tobin_Mine



Wraith:
- Removed non-existing HP_WRAITH_F_WPH_00_PLACEHOLDER1 from several Wraith units
- Removed non-existing HP_WRAITH_BATTLECRUISER_HANGAR_KAMIKAZE from Wraith Battlecruiser
- Fixed invalid value in Wraith_Hero_General_PP_Reflective_Hull
- Fixed spelling error for the armor type of Wraith_Replicator_Fighter_SK
- Fixed an issue with the PP Commando Wraith
- Added Base_Position 'Orbital' to the Wraith_Hangar



Dakara [Wave Mode]:
- Replicators will no longer attack before the space station has been conquered
- Increased the reload time for the Goa'uld flash satellite
- Fixed an issue which caused player units to attack their own station once its attribution had shifted
- Increased the difficulty (more Repli ships!)


Scripting



General:
- Removed reference to non-existing file HW_Blue1.lua
- Added None.lua dummy to remove object scripts from variants
- Removed non-existing lua script from the Tauri starbase
- Removed even more non-existing scripts
- Fixed a syntax error in the HW Huge script
- Fixed ObjectScript_Remove_Starbase_PP trying to use nil value
- Removed several unused buildings from our scripts whose existence cause script errors
- Removed non-existing pirate units from PGCommands.lua


AI Changes:
- Deleted cantina from AI plans
- Restructured some of the basic base build plans
- Moved starbases in the GOF further up to avoid a bug where the Rebel AI has trouble building starbases most of the time
- Stopped Empire AI from saving money for an imaginary Death Star
- Added new hint sets, telling the AI on which planets shipyards can be built
- Some small changes to the AI's perceptions
- Updated AI_Combat_Power for Goauld space units
- Added new tech behavior for BasicRebel and AI_Player_Underworld, all factions should be able to fully tech now
- Completed capital shipyard hints


Sound

- Fixed several errors caused by the min volume for a sound being bigger than the max value
- Replaced the following non-existing sounds with existing, fitting ones: Unit_Goauld_Ship_Laser_Fire, Unit_Heavy_Turbo_Laser_Fire, Unit_Rebel_Ship_Superlaser_Fire Unit_Goauld_Ship_Laser_1_Fire, Unit_Heavy_Turbo_Laser_Fire, Weapon_Drone2_Ancient, Weapon_Middle_Missel_Tauri, Weapon_Heavy_Missel_Tauri
- Removed countless non-existing vanilla sound references
- Added missing SFXEventsEngines.xml to SFX events files (this fixes quite a lot of issues)
- Removed all R/U/E-HD sound effects
- Fixed localize flag for Unit_Dart_Kamikaze_Attack
- Removed some more non-existing sounds
- Added missing SFX_Weapon_Hit.xml to SFX event files
- Changed Envelope_Hit_Medium.wav to a mono sound so it can actually be heard
- Removed empty SFXEvent_Attack_Hardpoint and SFXEvent_Hardpoint_Destroyed
- Fixed all SFX events using Explosion_Med1.wav incorrectly labeled as localized sample
- Added SFXEventsDeaths.xml to the mod which re-adds vanilla building explosion sounds
- Added some missing speech sounds for Apophis
- Created non-existing Unit_Torpedo_Fire fire sound (Weapon_Torpedo_Fire)
- Replaced non-existing Weapon_Railgun_Tauri with Weapon_Railgun_Tauri_Small
- Fixed an error with Data\Audio\Engine\Hive.wav not found
- Fixed labeling errors for SFX speech events Zelenka, SG1, Atlantis and Super Hatak
- Fixed several sounds, heroes mostly, especially a lot of engine sounds (Sol, Odin, Korellev, Hunter, ...)
- Fixed incorrectly labeled Goauld Pyramid select sounds


Level Design

The Might of the Asgard:
- The upgrade satellites are now available again

Dakara [Wave Mode]:
- Moved the planet Dakara further in the background

Text

- General text improvements
- Updated the description text for Dakara Wave Mode
- Updated several text strings

Art



Models:
- Re-exported Map_Texture_Loader_Ancients_Wraith.ALO to remove no longer existing textures
- Re-exported Tauri_Space_Hero_SG1.alo to fix a hardpoint issue
- Re-exported Map_Planet_UnknownSector.ALO to add a missing starbase marker
- Fixed Replicator_Space_Unit_Beliskner_D.ALO broken animation
- Added Othala space structure that was missing in the stable version



Icons:
- Added Jumper radar icon


Effects:
- Replaced several non-existing explosions with a newly created explosion
- Fixed countless incorrect shield hit effects


Shaders:
- Added shaders that were part of the last official Steam patch to the mod so non-Steam users can benefit from the changes as well
- Added our custom shaders to a meg file so they will be recognized by the game (this fixes all green planet backgrounds!)


Code

General:
- Removed files listed in the GOF that don't exist
- Deleted some Star Wars units that referenced to a non-existing variant
- Removed a lot of un-needed vanilla files that were still loaded through our GOF. This resulted in further deletions and changes in the GroundUnitsStarWars.xml
- Added missing vanilla units whose absence cause script errors
- Removed non-existing entries for ShipNameTextFiles in the GameConstants.xml
- Added Damage_Default, Armor_Default, and Shield_Default to GameConstants.xml
- Fixed incorrect Traveler text ID
- Replaced several instances of the non-existing Text_ID NONE with TEXT_NONE
- Replaced all instances of LEERSTRING and -PLAIN with TEXT_NONE
- Fixed XML bad comments in in Markers.xml and Wave_Objects.xml
- Fixed a syntax error in Particles.xml (random "z")
- Fixed non-allowed characters in Props_Stargate.xml, Props_Stargate_Space.xml, Test_Ships.xml, Test_Units_Ground.xml, Unit_Space_Neutral_GC_Dummies.xml
- Removed non-existing Targeting_Priority_Set for Wave_Aurora_Star_Base_1, Unit_Space_Asurans_Aurora.xml, Unit_Space_Asurans_Puddlejumper.xml
- Removed non-existing Space_Layer 'fighter' from all fighters that had it
- Removed all damage types from the vanilla projectiles
- Fixed several non-existing armor and damage types
- Fixed an issue regarding some of our damage types not working
- Fixed all entities in which damage was set to 0
- Fixed BuildReqGroundBaseLevel for various space units
- Removed Wave_Asteroid_Void from the main menu map
- Fixed FogOfWar grid size error in the main menu
- Replaced non-existing units Goauld_Hero_Anubis_GC, Alliance_Assault_Frigate
- Removed several Corruption_X_Success_Unlock_Unit_Type rewards
- Fixed some incorrect Targeting_Priority_Sets
- Fixed some projectiles not having a XML category mask assigned to it
- Removed a ton of non-existing entities, way too numerous to list them here
- Fixed more stuff that we don't want to spend more time on writing down than on fixing it



Upgrades:
- Fixed incorrect naming for various Combat_Bonus_Ability used by upgrade objects
- Removed US_Cloaking_Generator_L1_Upgrade and US_Cloaking_Generator_L2_Upgrade from the game
- Fixed invalid values for the US_Magnetically_Sealed_Armor_*_Upgrade, US_Reinforced_Structure_*_Upgrade, and RS_Reinforced_Armor_*_Upgrade upgrade objects



Factions:
- We have reworked our faction code (order, files, number of factions, maps, ...)
- If placed in different files, Steam and retail versions of the game read the factions from units pre-placed on a map in a different order
- It is important that the ORDER of the factions does not change, otherwise faction attribution in the map editor will break
- Adding more factions as this will result in multiplayer crashes with too many players; we had to delete some factions to fix everything
- This fixes major Issue (7+ player crash) and major Issue (Tactical missions in PP broken in Steam)
- The Genii are now named "Pirates" in the code (The game didn't like the pirates removed)
- Removed some left-over references to no longer existing factions



Starbases:
- Added a tag for all five levels of the Tau'ri starbase to activate the loop idle animation
- Fixed an error that prevented the Supply_Dock_Income_Bonus being applied to Goa'uld and Wraith starbases (Tauri was working fine)
- Fixed Aschen starbase radar ability not working
- Fixed incorrect shield armor type for the Tauri level 5 starbase
- Fixed an error caused by none of our starbases having a damage value



Hardpoints:
- Moved all hardpoints into separate files
- Deleted some non-existing hardpoints
- Removed non-existing HP_E_EMITDAMAGE
- Fixed some hardpoint errors
- Fixed last remaining hardpoint errors caused by fake HPs
- Fixed all HP entities regarding damage decal and damage particle bone
- Removed Model_To_Attach entries from hardpoints that should not have them
- Deleted invalid HARD_POINT_GOAULD_STAFF from GameConstants
- Created Hardpoint_None for unit variants that should not have hardpoints



Satellites:
- Replaced non-existing armor type "Armor_Capital" with "Armor_Normal" for several satellites
- Removed invalid Targeting_Priority_Sets for various satellite hardpoints
- Deleted various un-used satellite hardpoints from the 1.3



Aschen:
- Fixed incorrect attachment bone for HP_Aschen_Corvette_Shield



Asurans/Ancients:
- Fixed incorrect affiliation of the Asuran_Laser_Satellite



Genii:
- Fixed invalid value in Fire_Cone_Width for Kolya



Goa'uld:
- Renamed duplicate entry Proj_Goauld_Station_Laser_Artillery
- Removed un-needed LURE behavior from the Anubis Glider
- Removed non-existing target bone from the Old Hatak
- Fixed invalid value in Fire_Cone_Width for Baal



Ori:
- Fixed spelling error in one of the Ori ship's behaviors


Replicators:
- Fixed incorrect death clone of the Repli Hatak



Tau'ri:
- After all these years the HB-302 can now finally fire its anti-fighter missiles
- Fixed incorrect fire bone A named MuzzleA_06 for hard point HP_BELISKNER_FL_ICS



Tobins:
- Fixed missing fire bones error for Tobin_Mine



Wraith:
- Removed non-existing HP_WRAITH_F_WPH_00_PLACEHOLDER1 from several Wraith units
- Removed non-existing HP_WRAITH_BATTLECRUISER_HANGAR_KAMIKAZE from Wraith Battlecruiser
- Fixed invalid value in Wraith_Hero_General_PP_Reflective_Hull
- Fixed spelling error for the armor type of Wraith_Replicator_Fighter_SK
- Fixed an issue with the PP Commando Wraith
- Added Base_Position 'Orbital' to the Wraith_Hangar



Pegasus Prelude:
- Fixed a major issue in AFG which could cause the fleet to choose the wrong target planet after the original target was captured. This should heavily impact PP during late- and midgame and keep the Wraith threat high!
- Fixed an issue with the Taranis attack fleet might arriving too late
- Fixed wrong event (Hippaforalkus) being fired as emergency trigger for the final mission
- The Asurans-turn-hostile event should now work properly
- Updated Arcturus event so it can also trigger if the player re-conquers Doranda if he had lost the planet before
- Updated Atlantis mission map that had units placed with wrong faction attribution
- Re-wrote the Upgrade-Moros-Dreadnought event. Moros will no longer automatically despawn - only when you construct the upgrade
- Removed StoryModeService and put conquer victory check in a separate function that only becomes active once the Wraith Homeworld has been conquered (a lot better on resources!)
- Enabled automatic GC victory in case of a script hiccup
- Fixed incorrect order of texts if the player conquered Gonta early on
- Lowered the build cost for Ancient drone and fighter units to make up for their research cost
- Fixed Gonta event chain triggering too early
- Project Arcturus will now be removed from the active log as soon as the player has paid for its research
- The player no longer gets any constant money flow (so no more money while the game is paused)
- Fixed Melia not being a major hero
- Fixed missing event PPM_Objective_Convoy_Ships_Survived_5_AI_NOTIFICATION in event PPM_Objective_Convoy_Must_Survive_Complete
- Fixed an issue where Ancient starbase would always spawn with level 1 in battle regardless of the actual GC level
- Adjusted the max speed for some Wraith and Ancient ships
- Specifically locked the Odin for the AI in the helper plot files
- Added a message for the start log telling the player he can open the log at any time to get more information about the current mission
- Added wraith_Defense_Satellite_ANTIFIGHTER_SS back to PP because it works now
- Removed the (unused) Rebel AI from PP



Dakara [Wave Mode]:
- Replicators will no longer attack before the space station has been conquered
- Increased the reload time for the Goa'uld flash satellite
- Fixed an issue which caused player units to attack their own station once its attribution had shifted
- Increased the difficulty (more Repli ships!)


Scripting

General:
- Removed reference to non-existing file HW_Blue1.lua
- Added None.lua dummy to remove object scripts from variants
- Removed non-existing lua script from the Tauri starbase
- Removed even more non-existing scripts
- Fixed a syntax error in the HW Huge script
- Fixed ObjectScript_Remove_Starbase_PP trying to use nil value
- Removed several unused buildings from our scripts whose existence cause script errors
- Removed non-existing pirate units from PGCommands.lua


AI Changes:
- Deleted cantina from AI plans
- Restructured some of the basic base build plans
- Moved starbases in the GOF further up to avoid a bug where the Rebel AI has trouble building starbases most of the time
- Stopped Empire AI from saving money for an imaginary Death Star
- Added new hint sets, telling the AI on which planets shipyards can be built
- Some small changes to the AI's perceptions
- Updated AI_Combat_Power for Goauld space units
- Added new tech behavior for BasicRebel and AI_Player_Underworld, all factions should be able to fully tech now
- Completed capital shipyard hints


Sound

- Fixed several errors caused by the min volume for a sound being bigger than the max value
- Replaced the following non-existing sounds with existing, fitting ones: Unit_Goauld_Ship_Laser_Fire, Unit_Heavy_Turbo_Laser_Fire, Unit_Rebel_Ship_Superlaser_Fire Unit_Goauld_Ship_Laser_1_Fire, Unit_Heavy_Turbo_Laser_Fire, Weapon_Drone2_Ancient, Weapon_Middle_Missel_Tauri, Weapon_Heavy_Missel_Tauri
- Removed countless non-existing vanilla sound references
- Added missing SFXEventsEngines.xml to SFX events files (this fixes quite a lot of issues)
- Removed all R/U/E-HD sound effects
- Fixed localize flag for Unit_Dart_Kamikaze_Attack
- Removed some more non-existing sounds
- Added missing SFX_Weapon_Hit.xml to SFX event files
- Changed Envelope_Hit_Medium.wav to a mono sound so it can actually be heard
- Removed empty SFXEvent_Attack_Hardpoint and SFXEvent_Hardpoint_Destroyed
- Fixed all SFX events using Explosion_Med1.wav incorrectly labeled as localized sample
- Added SFXEventsDeaths.xml to the mod which re-adds vanilla building explosion sounds
- Added some missing speech sounds for Apophis
- Created non-existing Unit_Torpedo_Fire fire sound (Weapon_Torpedo_Fire)
- Replaced non-existing Weapon_Railgun_Tauri with Weapon_Railgun_Tauri_Small
- Fixed an error with Data\Audio\Engine\Hive.wav not found
- Fixed labeling errors for SFX speech events Zelenka, SG1, Atlantis and Super Hatak
- Fixed several sounds, heroes mostly, especially a lot of engine sounds (Sol, Odin, Korellev, Hunter, ...)
- Fixed incorrectly labeled Goauld Pyramid select sounds


Level Design

The Might of the Asgard:
- The upgrade satellites are now available again

Dakara [Wave Mode]:
- Moved the planet Dakara further in the background



Text

- General text improvements
- Updated the description text for Dakara Wave Mode
- Updated several text strings






Yours,