After much work (and even more planning) we decided to start from scratch and set up a new website based on the excellent WordPress CMS. The idea of this new website is to have a more flexible, extensible, pretty, futureproof and solid CMS to work with.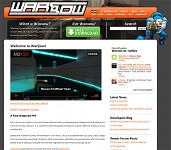 The new website comes with some nice new features. Warsow.net now features an integrated irc-applet, for new players to participate in Pickup Games too. The possibility to easily share news and blogposts via Twitter and Facebook. A new Community section with some of the highlights of community-developed mods and gametypes. Support for Gravatars.
And there's more coming in the near future.
Some other exciting stuff is still in the works, such as a fully integrated Match browser (as we know from warsow-esport.net). And Warsow.net will feature 'live' playercounts (of people actually in-game), next to the 'Who's online' stats of the website.
Thanks to the hard work of hangy we managed to maintain all of our content. So blog and newsposts, forums and forumposts, forumaccounts and even private messages are all still in place!
Additional tinkering and finetuning can also be expected in the coming time. So feedback, comments & crits are much appreciated!