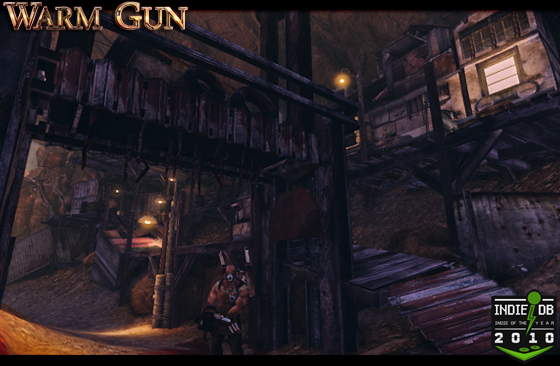 Hey IndieDB!
Warm Gun has often been praised for its graphical quality (we love the positive comments!) but we feel the most important aspect to a video game is the fun factor. We've been working for a long time to get the game set up in a playable environment. For those of you that don't know, we can quickly throw down some stats for Warm Gun:
6 Characters
35 Playable Weapons (currently)
Character and Weapon Customization
7 Game Types (both standard and unique)
10 Highly Interactive Multiplayer Maps
Realistic Artificial Intelligence (for custom games and single player/offline modes)
Structured leveling and achievements system
Ability to have mutators for dedicated servers (people who host dedicated servers can modify the game's rules)
That's a quick overview of some features we're including with Warm Gun and it has taken quite a long time to really get some of these features feeling as smooth as they look in screenshots. We're still implementing/perfecting this list, but Warm Gun is really starting to get exciting! We're happy to finally say that we've gone through a few rounds of testing and the game reviews have been almost completely positive (with a few awesome constructive responses).
We started with developer-only testing (20-25 people) and then branched it out to local testers (~100 people) in controlled environments. This is no secret, but Emotional Robots' primary goal is to make games that people enjoy playing. We can't even begin to explain the amazing feeling we get when a tester is 'in the moment' and kills someone (or gets killed) and either busts out laughing or screams "NO WAY!"
Those awesome "in-the-moment" experiences are what we live for as players and what we strive to provide as developers. We're going to continue growing our tester base and fine-tuning our game until we release the game early Spring.
We've also recently gained the attention and support from a couple other companies, Intel and GameServers, which will allow us to be even more effective developers. Intel's developer tools have been crucial to testing our performance on various graphics cards and processors; allowing us to fine-tune some aspects of our game to handle more concurrency across multiple cores as well as optimize our game for lower-end graphics cards. We've also been able to lower the game's power consumption for those laptop and eco-friendly users. Additionally, testing wouldn't be nearly as smooth without the support from GameServers. Their powerful dedicated servers allow us to upload developer builds and test them instantly, which leaves us to focus on the important things like making our game fun.

Alpha footage - entire interface is placeholder art.
For those that like the idea of Warm Gun, we would REALLY appreciate it if you guys expressed your love by voting in the IOTY contest! If we make the top 50 it will allow us to continue posting juicy updates throughout the contest, so if you guys want to see more make sure you vote for us! Also - feel free to tell us what you'd like to see!