I've spent a good deal of time thinking about how I could distance the look from others. Make it distinctly "Halo", so to speak. To do that, I took a look back at previous titles. Specifically, their great great menu design:
I knew I wanted to shoot for the Halo 2 aesthetic. To me, it was defintitely the most eye pleasing and captured the high tech militarism of the UNSC fairly well.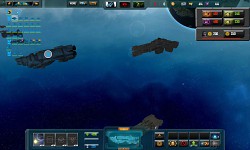 The decision to go for a holographic look meant big changes to the usual look of the gameplay. I won't go into too much detail here, but expect for most objects in SotP to have pop-up status reports and labeling. An article concerning just that will likely be just around the corner.
Anyways, till next time.
-CanadaMan7