Vehicle Destruction System
This week we finally finished with the Vehicle Destruction system. It's quite complex: unlike most games, vehicles have many different systems, which have specific effects when they get destroyed.
Crew is also vulnerable while inside the vehicle, and may get injured or killed even before it's severely damaged.
The following video is a demonstration of the damage system, applied to the Type 63 tank.
To give you an idea of how vehicle destruction works, here's an account of what happens internally during the video:
- The hit @0:05 destroys the driver's station, killing the driver and forcing the vehicle to stop. That's why you see smoke coming out of the driver's (forward) hatch for the rest of the video.
- Next hit destroys the vehicle's left track, immobilizing it
- Crew starts bailing out @0:08 (you can see the top hatch open though the smoke)
- Hit @0:21 destroys the right track
- Hit @0:22 is a critical impact on the vehicle's ammunition stores, igniting them and causing high-speed flames to erupt from the sides of the turret. Everyone left inside dies.
- @0:42, extreme pressure inside the vehicle causes a secondary explosion, detaching the turret and hurling it through the air.
Now we're working on applying this system to all other vehicles in the game. Keep your eyes peeled; in a couple of days we will be posting a new video showcasing a number of vehicles getting obliterated.
I'll take mine with extra gore, thank you
We added a little something to season firefights among characters a bit. Now, some critical hits on characters will have them squirting blood all over the place.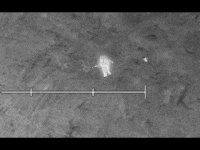 Just because we love you, and know you are sadistic like that.
Dense foliage areas: more than a cosmetic device
Another "new" development is the creation of areas with dense foliage.
These areas will partially hide characters, vehicles and buildings, making it quite hard to either identify or pinpoint a target. Is that guy friend or foe? So it's a foe, but can I shoot it, or are there friendlies around I cannot see?
It was common tactic for the North Vietnamese Army to hide anti-aircraft weaponry in dense foliage on hillside slopes, so that's also a possibility.
And yes, on that first phrase you read "new", with quotes.
That is because we've been working on finding a way to make areas of dense foliage on and off for months, and oscillating between mildly disappointed, and severely disappointed with the results.
Making an area of dense foliage in a regular way (i.e. adding lots of tree meshes or tree textures) is monumentally taxing on mobile devices. So we had to get creative and resort to some serious trickery.
This time, at last, we hope we got it right.