Hey everyone lets start off with the latest video update shall we?
Also this week MrCupCake has sent me a model for a street post: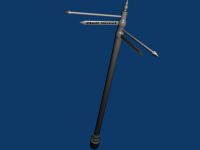 and last but not least! I will talk about the development team :D
You may have already noticed it when it was setup this week (with most of its logos being made by Salsa_Shark <-- thanks :D) anywho the dev team is now setup and working so I can now fully account who is on the team, We are still waiting on more members and I would like to say this to any discouraged coders,
I've read on the UDK website that you CAN use C++ and other coding styles in the UDK Engine because it has something to converts it essentially into Unreal Coding so no worries if that was putting you off from coding with the UDK engine although on that note it is rather restricted with coding.
any way hope you all enjoyed the update! (Sorry for uploading it a little late to day...)