As we roll out new units, we thought you'd enjoy learning a bit about them. Particularly, learning how nice they look engulfed in fiery death.
That is why we came up with the idea of a running "episodic" set of articles that will give you a brief introduction to particular units, and then show you a bit of gameplay where they... well, don't fare that well.
Today: Anti Aircraft Artillery ("AAA")
ZPU-4 14.5mm AAA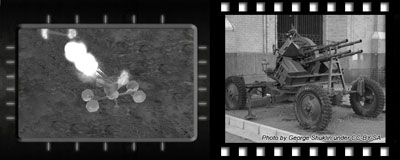 The ZPU-4 is the most basic type of AAA you'll encounter. Despite its short range, limited accuracy and low caliber ammunition, this four-barrelled weapon can produce a high volume of fire. This is the reason why it was feared by the slow, low-flying helicopter pilots during the Vietnam war.
KS-19 100mm AAA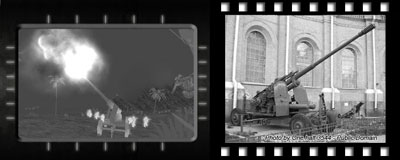 The KS-19 is a huge, almost 10-meter (33-feet) long cannon which fires a whooping 100mm shell that explodes in the sky at tremendous distances. Thankfully, it has a very low rate of fire and poor accuracy.
ZSU-23-4 "Shilka" 23mm AAA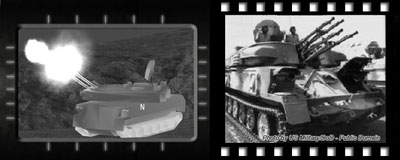 For decades, the "Shilka" was one of the most fearsome anti-aircraft artillery piece in the world. As a self-propelled weapon, you will usually encounter it escorting enemy convoys or guarding high value emplacements.
It fires its four 23mm cannons at a very high rate, and since it has its own radar, it is also extremely accurate. Its stabilization even allows it to fire on the move. This is a priority target, and you should destroy it as soon as possible, before it has a chance to take your Gunship down.
This is why we can't have nice things
Now that you know how they work, this is how they break: