Welcome Supernations Enthusiasts to the first ever Dev Diary for the mod! In order to keep the community up to date on the happenings and going ons of the development of the mod, I have taken it upon my self to provide occasional updates to my progress!
Today we will look at the several recent changes that will be coming to the Early United States within Victoria II.
Remember the Alamo?
Almost immediately, within the first few months of gameplay, the player will have an event fire: "Remember the Alamo?"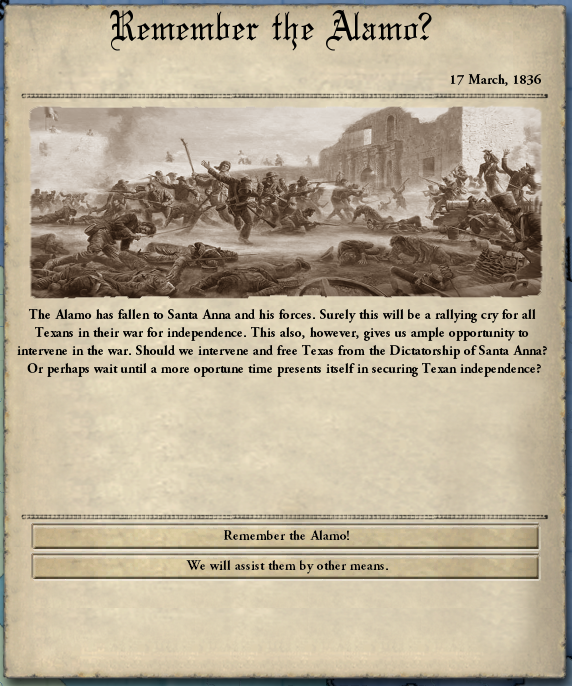 The event gives the player the option of early intervention in the war of Texan Independence against Mexico. Should the player choose to intervene they will have the opportunity to see Texas gain ALL of their claims in Mexico.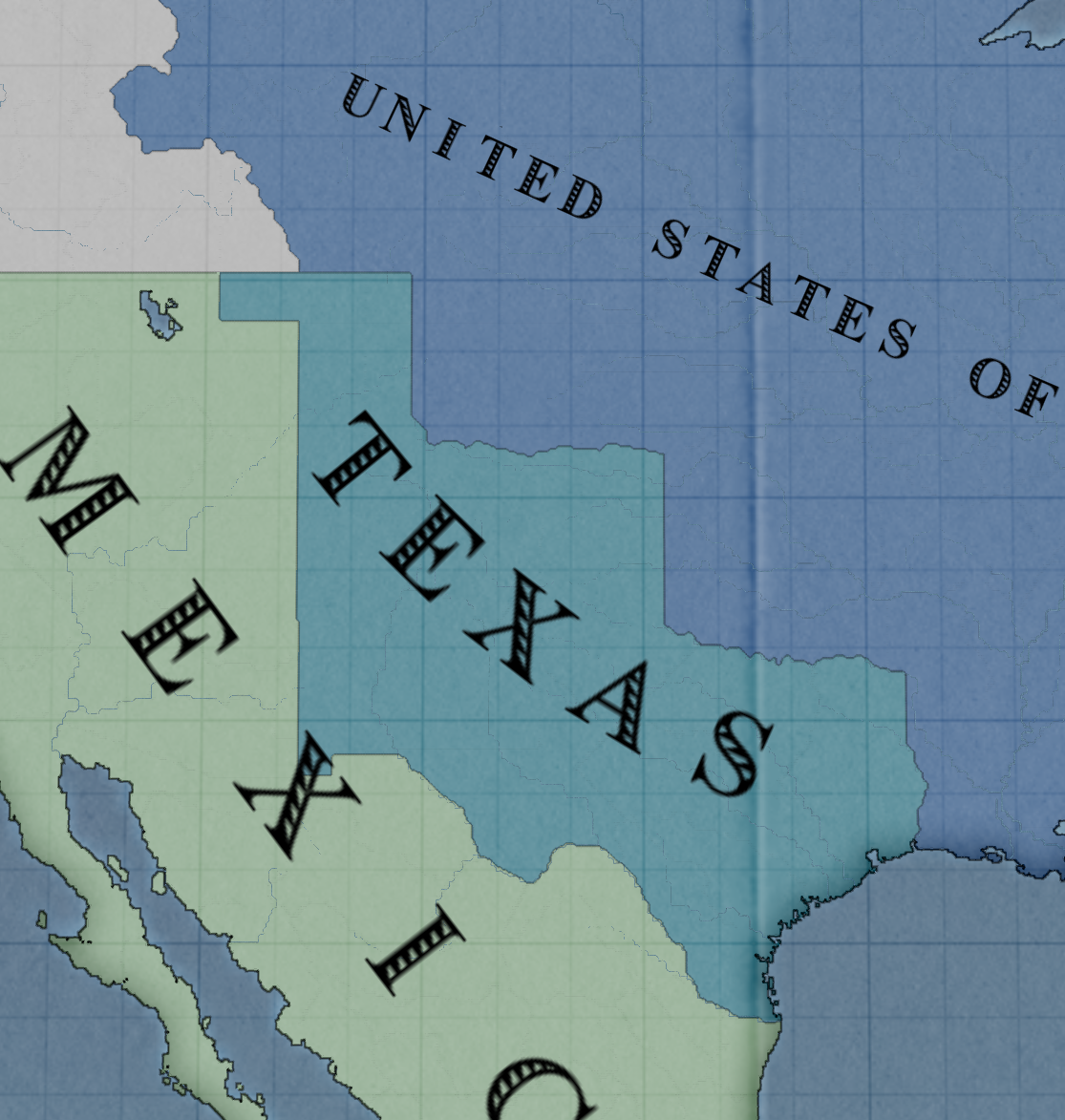 Resulting in a much beefier Texas! Of course, in all likelihood the new Super Texas will be subsequently apply for statehood after several years, paving the way for a slightly easier Mexican-American War.
The Yucatan Bill
Now, at this point, it is possible that a weakened Mexican Empire will fail to fend off several rebellions, one of which is the Republic of the Yucatan. In real time history the Yucatan had originally sought annexation by the United States to quell internal disputes. Of course, unsurprisingly, Congress rebuffed the President of the Yucatan's efforts instead.
Now the event can be brought back to life through the Yucatan Bill event chain! After the Yucatan gains its independence, and anytime after the year 1847, a delegation from the Yucatan will be sent to Washington.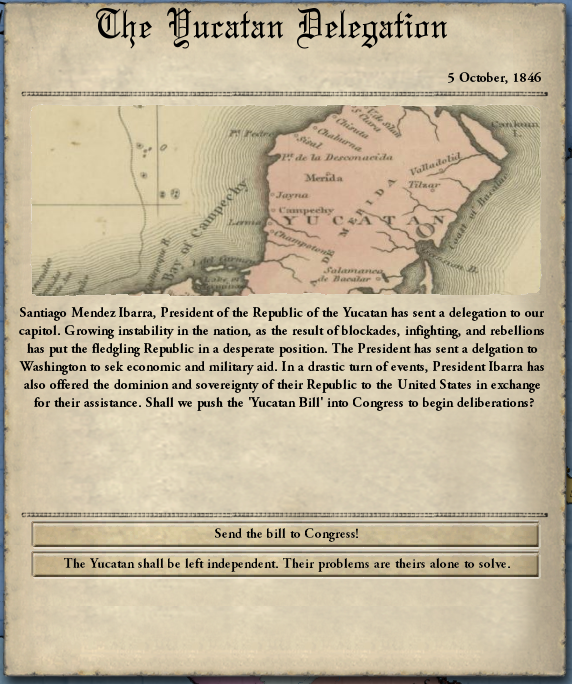 This sparks a series of events, the player can either choose to follow the history of the United States in our timeline, or instead divert and attempt to have the Yucatan join the Union. If the player chooses to send the Bill to Congress, a series of events will soon take place: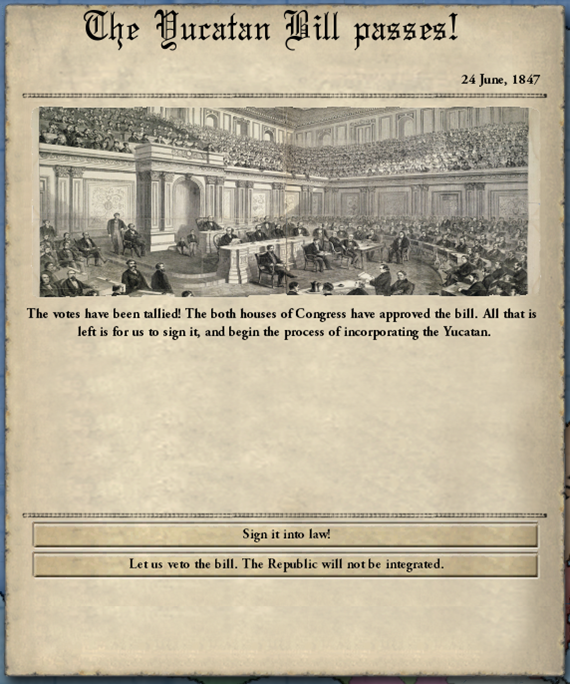 At this point the player has another option whether or not to rebuff the efforts to pass the Yucatan Bill. If the player moves forward with it, within a matter of months the Yucatan will petition for Statehood.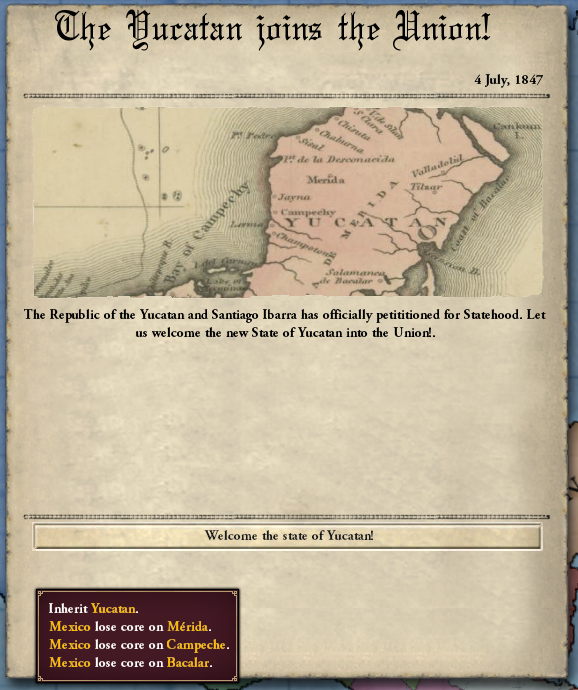 Now, with this short Dev Diary, I thank you all for joining in! Our next Dev Diary will showcase the immense event in Central American History known as the "Filibuster War" and the daring 'Soldier of Fortune' William Walker. Cya guys later!